Workup
Approach Considerations
Perform bacteriologic culture on pus from the discharging perifolliculitis capitis abscedens et suffodiens (PCAS) lesions in order to treat the secondary infection (primarily S aureus).
Histologic findings
The histopathologic picture of PCAS depends on the stage of the disease. Early lesions are characterized by a dense neutrophilic, lymphocytic, histiocytic, and plasma cellular infiltrate. Abscesses may be present in the dermis and even in the subcutaneous tissue. In later stages, chronic granulomas can be observed that consist of lymphocytes, plasma cells, and foreign-body giant cells. Scarring and fibrosis are frequently seen in the late stages. (See the image below.) [28]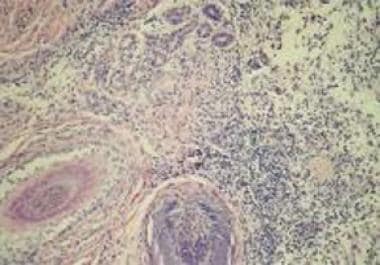 Histopathologic picture of biopsy taken from a white patient with perifolliculitis capitis abscedens et suffodiens. Hematoxylin and eosin stain, original magnification 400X. Image used with permission from Medical Science Monitor, 2000, 6(3): 602-4.
What would you like to print?