Presentation
History
Both acne conglobata and acne fulminans (AF) can be induced by anabolic-androgenic steroid abuse. [10] Although this probably represents only a small minority of cases, one should recognize bodybuilding acne, address the substance abuse, and warn patients about other potential hazards.
Acne conglobata can be associated with hidradenitis suppurativa. Note that hidradenitis suppurativa occurs more frequently in patients with mild acne than in other patients. [11] The hidradenitis may extensively involve the perineal and gluteal regions. [12] Sex and body mass index may influence sites of involvement. [13]
The list of possible associations of pyoderma gangrenosum must include acne conglobata. [14]
The association of acne conglobata and arthritis is rare, and has been reported only in single case reports in the literature, [15, 16, 17] although musculoskeletal syndrome (ie, myalgia, arthralgia, arthritis, hyperostosis) developed in some patients with severe acne (acne conglobata and acne fulminans). [18]
Pyoderma gangrenosum, acne conglobata, and immunoglobulin A gammopathy has been observed. [19]
Spondyloarthritis associated with acne conglobata, hidradenitis suppurativa, and dissecting cellulitis of the scalp has been reported. [20]
Renal amyloidosis may accompany acne conglobata. [21]
Acne conglobata and hidradenitis suppurativa may have a familial tendency; however, no significant relationship in the antigen patterns of patients with acne conglobata was observed.
The SAPHO syndrome of synovitis, acne conglobata, pustulosis, hyperostosis, and osteitis is rare, but should not be overlooked. [5, 22, 23] Affected individuals may have difficulty walking, owing to pain, weakness, and weight loss.
Physical Examination
The draining sinus is a malevolent lesion usually seen in severe forms of acne, such as acne conglobata, acne fulminans, and acne inversa.
In patients with acne conglobata and sacroiliitis, acute anterior uveitis may occur.
The nodules associated with acne conglobata are succulent, tender, and dome shaped. Characteristic nodules increase in size; break down to discharge pus; and often fuse, forming unusual shapes of several centimeters. The formation of nodules begins in early puberty; the severity increases until late adolescence and often beyond. Active nodule formation may persist for years and usually continues until the fourth decade of life. See the image below.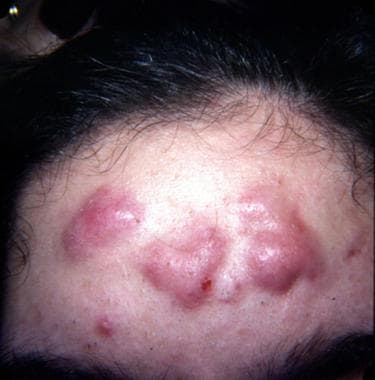 A close-up view of nodules and pustules on the forehead. Courtesy of Emanuel G. Kuflik.
Isolation of coagulase-positive staphylococci is common in the lesions.
As the nodules break down, crusts may form over a deep ulcer, which extends centrifugally but tends to heal centrally. This process is persistent, and slow healing is characteristic. See the image below.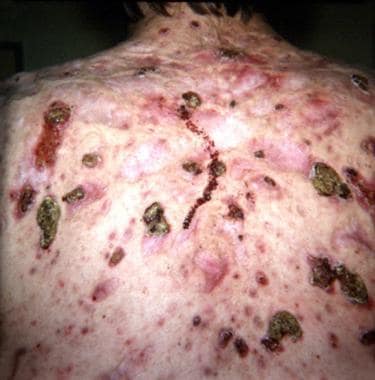 A closer view of nodules and pustules on the back. Courtesy of Emanuel G. Kuflik.
A conspicuous feature of the disease is the blackheads that appear in pairs or groups on the neck or the trunk; sometimes, blackheads involve the upper arms or the buttocks. [24]
Complications
This inflammatory form of acne may be associated with necrotizing scleritis, a potentially sight‐threatening subtype of anterior scleritis sometimes seen with underlying inflammatory disorders. [25]
What would you like to print?