Presentation
History
Parents often report that the child's hair is thinning and that haircuts are never needed or are needed only very infrequently. Parents may have noticed that hair traction, either accidental during playing or intentional, yields clumps of painlessly removed hair. Many parents complain that hair is unmanageable, lusterless, dry, dull, or matted. There may be a history of atopic dermatitis, but the association may be coincidental. [19]
Parents or siblings occasionally have a history of similar symptoms. Children who are affected are healthy and free from underlying nutritional deficiencies or other illnesses. Growth and development are normal.
Physical Examination
Physical examination reveals sparse growth of thin, fine hair and diffuse or patchy alopecia without inflammation or scarring. Gentle traction results in hair that is painlessly removed; however, hair is not fragile or easily breakable. Hair may be of varying lengths and may have an unkempt, lackluster appearance. In particular, hair overlying the occiput tends to be rough or sticky and does not lie flat (see following image).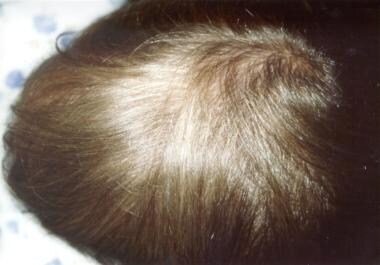 Thinning, dull, lackluster blonde hair with matting over the occipital region.
No scalp inflammation or scarring is present. Eyebrows, eyelashes, and body hair are rarely involved. Other structures of ectodermal origin (eg, skin, teeth, nails) are not affected.
Trichoscopy may show rectangular black granular structures, solitary yellow dots, and major predominance of follicular units with single hairs. [20]
What would you like to print?