Overview
Background
Hyperhidrosis, which is sweating in excess of that required for normal thermoregulation, is a condition that usually begins in either childhood or adolescence. Although any site on the body can be affected by hyperhidrosis, the sites most commonly affected are the palms, soles, and axillae. See the image below.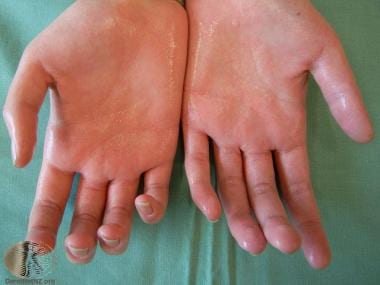 Hyperhidrosis of the palms. Courtesy of DermNet New Zealand (http://www.dermnetnz.org/assets/Uploads/hair-nails-sweat/hyperhidrosis.jpg).
Hyperhidrosis may be idiopathic or secondary to other diseases, metabolic disorders, febrile illnesses, or medication use. Hyperhidrosis exists in 3 forms: emotionally induced hyperhidrosis (in which it affects the palms, soles, and axillae), [1, 2] localized hyperhidrosis, and generalized hyperhidrosis. Hyperhidrosis often causes great emotional distress and occupational disability for the patient, regardless of the form.
Pathophysiology
Generalized hyperhidrosis may be the consequence of autonomic dysregulation, or it may develop secondary to a metabolic disorder, febrile illness, or malignancy. In its localized form, hyperhidrosis may result from a disruption followed by abnormal regeneration of sympathetic nerves or a localized abnormality in the number or distribution of the eccrine glands, or it may be associated with other (usually vascular) abnormalities.
Essential hyperhidrosis, a disorder of the eccrine sweat glands, is associated with sympathetic overactivity. [3] Essential hyperhidrosis does not appear to be a generalized disorder involving vascular endothelium.
Palmoplantar hyperhidrosis may be inherited in an autosomal dominant manner. [4]
Etiology
Hyperhidrosis may be idiopathic or secondary to other diseases, metabolic disorders, febrile illnesses, or medication use.
Generalized hyperhidrosis may be secondary to numerous conditions including the following:
Metabolic disorders or processes (eg, thyrotoxicosis, diabetes mellitus, hypoglycemia, gout, pheochromocytoma, menopause)

Medications: Use of medications may affect one or more components of human thermoregulation and induce hyperhidrosis. Agents such as propranolol, physostigmine, pilocarpine, tricyclic antidepressants, and serotonin reuptake inhibitors have been implicated. Efavirenz was recently described to induce excessive nocturnal sweating that resolved after dose reduction. [9]
Localized unilateral or segmental hyperhidrosis is rare and of unknown origin. The condition usually presents on the forearm or forehead in otherwise healthy individuals, without evidence of the typical triggering factors found in essential hyperhidrosis. Primary focal hyperhidrosis tends to arise on the palms, plantar feet, and axillae, as well as from the face and scalp of children and young adults; there seems to have a distinct subtype of craniofacial hyperhidrosis in postmenopausal women. [10]
Unilateral hyperhidrosis with accompanying contralateral anhidrosis is also rare. [11] Unilateral hyperhidrosis has been described on the right sides of the forehead, the nose, and the palmar surface of the right hand, with anhidrosis on the left hand.
Localized hyperhidrosis may also be associated with the following:
Eccrine nevus: This may be associated with severe localized hyperhidrosis. [12]

Eccrine angiomatous hamartoma: This is a rare, benign malformation characterized by both eccrine and vascular components. [13, 14] It is usually first evident at birth or during early infancy and childhood as a nodule or a plaque, usually solitary, involving acral skin. Although often asymptomatic, it may be associated with focal hyperhidrosis, hypertrichosis, and pain.

Peripheral neuropathy, organomegaly, endocrinopathy, monoclonal plasma-proliferative disorder, and skin changes (POEMS) syndrome

Spinal cord tumors: Rarely, hyperhidrosis may be an initial symptom.

[15]
Epidemiology
Frequency
United States
In the United States and the United Kingdom, 1-1.6% of people have records reflecting hyperhidrosis. [16] About 60% in both databases were women.
In adolescents and young adults, an incidence rate of 0.6-1% is reported for hyperhidrosis. [17]
International
Palmoplantar hyperhidrosis occurs 20 times more frequently in the Japanese than in any other ethnic group. [18, 19]
Race
All races can be affected by hyperhidrosis; however, Japanese are reportedly affected more than 20 times more frequently than other ethnic groups. [18, 19]
Sex
Both sexes can be affected by hyperhidrosis.
Age
Persons of all ages can be affected by hyperhidrosis. Localized hyperhidrosis, unlike generalized hyperhidrosis, usually begins in childhood or adolescence. In a study of 850 patients with palmar, axillary, or facial hyperhidrosis, 62% of patients reported that sweating began since before they could remember; 33%, since puberty; and 5%, during adulthood. [20]
Prognosis
Hyperhidrosis is difficult to treat effectively. Hyperhidrosis is not associated with mortality. Severe cases of hyperhidrosis may adversely affect the patient's quality of life (see Complications). With the newer treatment modalities now available, the patient has numerous options and is offered a better prognosis.
Patient Education
What would you like to print?