Presentation
History
Patients present with diffuse hair loss after an exposure to drugs or toxic chemicals. Chemotherapeutic agents are most commonly responsible for hair loss. The most severe hair loss occurs in association with doxorubicin, the nitrosoureas, and cyclophosphamide. Hair loss usually begins 7-14 days after a single pulse of chemotherapy. [21] The hair loss is clinically most apparent after 1-2 months.
The patient's full dermatologic, systemic, and family histories should be obtained to rule out other causes of hair loss, including malnutrition, iron deficiency, endocrine and metabolic disorders, collagen disease, infections (eg, syphilis), and widespread skin disease.
Anagen effluvium may be an uncommon symptom in a patient with pemphigus vulgaris.
A variety of medications may cause hair loss, stimulate hair growth, or induce changes in hair shape and color. Drug-induced hair loss is usually a consequence of a toxic effect of the drug on the hair matrix. Although many drugs have been occasionally described to produce hair loss, the relationship between drug intake and hair loss has only been proven for a few agents. The type of hair loss (ie, telogen effluvium, anagen effluvium, or both) depends on the medication, its dosage, and patient susceptibility.
Tamoxifen is associated with anagen effluvium, producing diffuse hair loss starting shortly after initiation, becoming most prominent after 6 weeks of it, with hair growth rate returning to baseline within three months of tamoxifen being stopped. [22]
Physical Examination
Anagen effluvium is a nonscarring alopecia that leaves the follicular ostia intact. Most hair follicles are in the anagen stage at any given time; therefore, anagen alopecia affects a large percentage of the scalp. Some chemotherapeutic agents can also induce telogen effluvium. The combination of telogen effluvium and anagen effluvium can result in complete baldness.
The diffuse alopecia of anagen effluvium can be distinguished from androgenetic alopecia, which is characterized by frontotemporal thinning followed by hair loss in the crown.
The hair and scalp should be thoroughly inspected to rule out local disease. Any erythema, scale, pustules, bogginess, sinus tract formation, or obliteration of the follicular openings should be noted. Any of these findings may indicate another cause of the alopecia.
See the image below.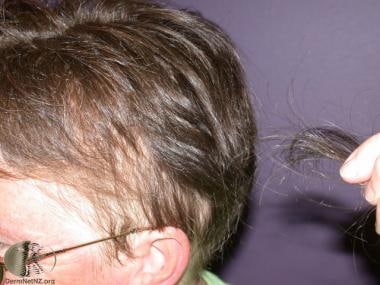 Anagen effluvium. Courtesy of DermNet New Zealand (https://www.dermnetnz.org/assets/Uploads/hair-nails-sweat/anagen-effluvium-01.jpg).
What would you like to print?