Presentation
History
Graham-Little-Piccardi-Lasseur syndrome (GLPLS) patients are usually otherwise healthy middle-aged women.
GLPLS is typically sporadic and nonfamilial. In 2004, Viglizzo et al reported one case of GLPLS in a 47-year-old mother and her 19-year-old daughter. [6]
The course of disease is slowly progressive (months to years) and often chronic. In 2003, Ghislain et al reported a 50-year-old woman who initially presented with disseminated lichen planus, which then progressed to the classic triad of GLPLS over a 20-year period. [11]
While the chronological course of GLPLS is variable, most patients usually present with clinical findings in the following order, called the triad of GLPLS:
Cicatricial alopecia of the scalp

Noncicatricial alopecia of the axilla and groin

Follicular lichen planus eruption of the body, scalp, or both
In most patients, cicatricial scalp alopecia does not respond to medical interventions and results in progressive and permanent patchy hair loss. In contrast, follicular lichen planus eruptions usually demonstrate a good response to medical treatments.
Physical Examination
Symptoms from the triad of Graham-Little-Piccardi-Lasseur syndrome (GLPLS) need not be present simultaneously.
Cicatricial scalp alopecia is chronic and progressive through the following several stages:
Mild perifollicular erythema (with or without pruritus)

Follicular hyperkeratosis (keratotic and/or spiny papules)

Patches of cicatricial alopecia with occasional tufts of normal hair

Loss of residual normal tufts and hair follicles

Cicatricial alopecia with permanent hair loss, clinically identical to pseudopelade of Brocq, in end-stage GLPLS
Noncicatrizing alopecia of axilla, groin, and occasionally eyebrows and follicular lichen planus of the skin (trunk, proximal limbs), scalp, or both usually resolve without treatment.
Patients have a history of typical cutaneous and/or oral lichen planus.
In 1999, Bardazzi et al reported one case of GLPLS associated with hepatitis B vaccination and further suggested that GLPLS may also be associated with liver disease (ie, hepatitis). [12]
See the images below.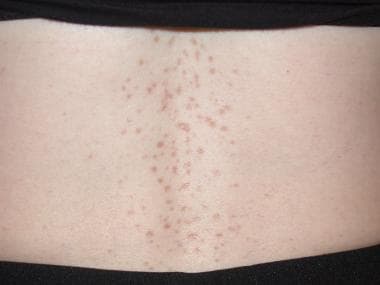 Follicular lichen planus eruption.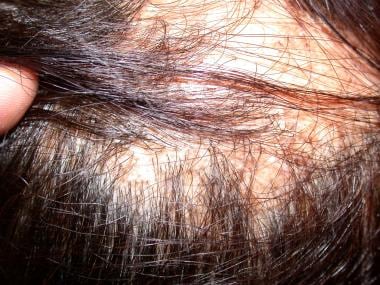 Lichen planopilaris of the scalp resulting in cicatricial alopecia.
What would you like to print?