Presentation
History
Initial lesions may be noticed as crops of 1-2 cm, asymptomatic erythematous macules, plaques, or nodules that enlarge over weeks, possibly reaching several centimeters in diameter. Lesions appear on the upper arms, the trunk, the thighs, and less commonly on the neck, face, and rarely on distal extremities. Comorbid lesions may already exist. End-stage lesions do not change over time, and new lesions may continue to develop over years.
Physical Examination
Primary lesions of anetoderma present as discrete, flaccid areas of slack skin, which may be depressed, macular, or papular. Lesions may have overlying wrinkled skin. Lesions may be isolated or multiple. Lesions may slightly bulge like pouches and herniate into the skin upon palpation, a finding referred to as the "buttonhole" sign by some authors. [13] See the images below.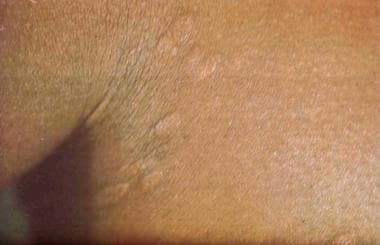 Multiple lesions of anetoderma.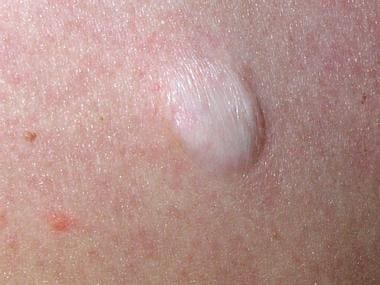 Close-up view of a single lesion of anetoderma.
On pressure, a normal ring of surrounding skin is felt. The scalp, the palms, the soles, and the mucous membranes are usually spared. A few to hundreds of lesions may form. These may coalesce and become indistinguishable from acquired cutis laxa.
Causes
Primary or idiopathic anetoderma originates from previously healthy skin with unknown pathogenesis. Various autoimmune, ocular, bony, cardiac, and other abnormalities have been reported with anetoderma, including the familial forms. Whether these findings are coincidental or related is unknown. Thus, a thorough history and a complete physical examination are essential.
The association with lupus erythematosus or other autoimmune disorders and primary anetoderma is well-established. This is owing to the frequent finding of antinuclear antibodies, antiphospholipid antibodies, hypocomplementemia, thyroid autoantibodies, and/or a positive lupus band test in patients who have anetoderma. However, criteria for diagnosis of systemic lupus erythematosus are typically not met.
Furthermore, studies have suggested a strong association between primary anetoderma and the presence of antiphospholipid antibodies, with or without a diagnosis of antiphospholipid antibody syndrome. [14] Primary anetoderma may appear years earlier than the classic signs of an autoimmune syndrome. It is therefore recommended to search for clinical and laboratory signs of an autoimmune disorder in every patient presenting with primary anetoderma. [15, 16, 17, 18]
Familial anetoderma is a rare entity, which has only been reported in 12 families to date. Anetoderma was limited to the skin in some cases, while others were associated with extracutaneous abnormalities, particularly bone and/or cranial nerve anomalies. [1]
Anetoderma of prematurity is yet another entity occurring in very-low-birth-weight infants in neonatal intensive care units. Lesions usually present on the trunk and have been linked to the use of monitoring leads, leading to local hypoxia secondary to pressure on immature skin, thereby representing an acquired disorder. [19]
Additional associations that have been reported with primary anetoderma include the following:
Secondary anetoderma has been associated with myriad inflammatory, autoimmune, infectious, and neoplastic dermatological conditions. Associations that have been well-documented in the literature include the following:
Additional conditions that have been reported to be associated with secondary anetoderma in isolated case reports include the following:
Furthermore, external traumatic injuries that have been linked to the development of secondary anetoderma include the following:
What would you like to print?