Overview
Practice Essentials
Idiopathic atrophoderma of Pasini and Pierini (IAPP) is a form of dermal atrophy that manifests as single or multiple sharply demarcated, hyperpigmented, non-indurated patches. These patches are marked by a slight depression of the skin with an abrupt edge, creating a "cliff-drop" border, and are usually located on the backs of adolescents or young adults. The lesions may be discrete or confluent. The affected skin appears thinned and discolored, but the consistency and feel of the affected skin remains normal.
Signs and symptoms
Lesions are single or multiple, irregularly round or ovoid patches, varying in size from a few centimeters to large areas across the trunk. A predilection for the legs has also been reported. [1] The face, hands, and feet are usually spared. Distribution is often symmetric and bilateral; however, reports have described solely unilateral or zosteriform distribution. [2] A rare, generalized, and lenticular variant has also been documented. [3] Lesions have traditionally been described as hyperpigmented; however, Saleh et al described a retrospective study of 16 Lebanese patients in whom lesions were more hypopigmented (56%) and skin-colored (25%). [1]
The lesions are usually asymptomatic and lack inflammation. The skin lesions may coalesce over time to form large, irregular, pigmented areas. The areas are usually brown but may have a blue hue.
Eventually, the pigmentation lightens, and the involved skin becomes depressed below the level of the surrounding skin. This change produces the characteristic, sharply defined "cliff-drop" borders, ranging from 1-8 mm in depth, although they can have a gradual slant. Close examination of the skin with side lighting demonstrates the unique cliff-drop border, giving the impression of an inverted plateau. Multiple lesions may have an appearance similar to Swiss cheese.
Note the images below.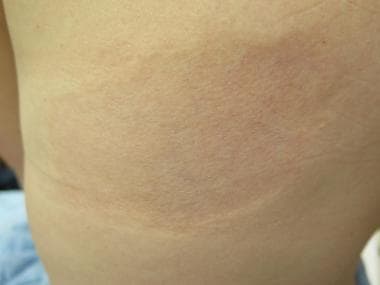 Single ovoid patch of atrophoderma on the back of a young adult female.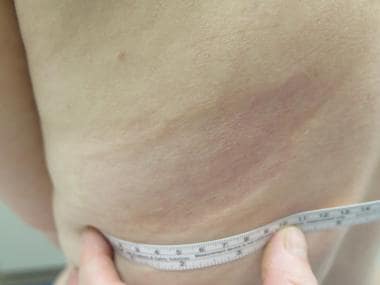 Atrophic hyperpigmented patch with characteristic "cliff-drop" borders.
The skin surrounding the patches appears normal. No erythema or lilac ring, as in morphea, is observed. Once indentation occurs, the lesions may become quiescent, stopping any further enlargement. The surface of the skin feels and appears normal, and no induration or sclerosis is noted.
In the late stages, superficial blood vessels may be visible in the depressed patches. No palpable difference can be felt between normal and affected skin. White, shiny sclerodermatous induration is sometimes seen in the central part of the lesions, and concurrent but separate characteristic plaques of morphea may be noted, supporting a possible relationship between these disorders.
Diagnostics
The laboratory, imaging and histologic findings of idiopathic atrophoderma of Pasini and Pierini are non-specific and the diagnosis is typically made on the basis of clinical features.
Routine baseline studies of the blood and urine may help to exclude other conditions, but they do not help in the diagnosis of idiopathic atrophoderma of Pasini and Pierini. [4]
Screening tests such as the enzyme-linked immunosorbent assay may be performed to detect anti– B burgdorferi antibodies.
One anecdotal case report from 2012 advocates thyroid gland evaluation in all patients with sclerodermalike disorders because of pathophysiological links between cutaneous fibrosis and the thyroid gland. [5]
The thickness of the dermis and subcutis may be measured using MRI or 13-MHz B-mode ultrasonography. [6]
Skin biopsy is not always necessary to make the diagnosis; however, it may be useful to exclude other entities.
Dermal atrophy is more easily evaluated with wedge excision than punch biopsy. An elliptical biopsy specimen is sectioned longitudinally from an area that includes normal skin and the cliff-drop border of the lesion. If dermal atrophy is present, the transition between normal dermis to atrophied dermis is discernible.
On dermoscopy, lesions may show fibrotic beams and linear arborizing vessels. There may be irregular distribution of the pigment network and speckled, hypopigmented macule in a storiform pattern. [7]
Also see Histologic Findings.
Management
No treatment is consistently effective, but some patients respond to topical corticosteroids, antibiotics, or antimalarials.
Results of medical treatment with antibiotics have been inconclusive. In patients with new early-stage idiopathic atrophoderma of Pasini and Pierini, especially those with a positive B burgdorferi antibody titer, the standard recommended therapy for Lyme disease is suggested. A retrospective evaluation of 25 patients treated with oral penicillin (2 million IU/d) or oral tetracycline (500 mg 3 times/d) for 2-3 weeks showed clinical improvement with no new active lesions in 20 patients. The same study also showed no progressive disease in 4 of 6 patients who did not receive treatment.
A report of a 35-year-old woman with elevated B burgdorferi antibody (IgM) titer and atrophoderma of Pasini and Pierini describes clinical improvement with no new lesions with doxycycline (200 mg/d) for 6 weeks. [8]
Anecdotal reports have described beneficial treatment with the use of hydroxychloroquine [9] and potassium aminobenzoate.
In a report of a single patient with idiopathic atrophoderma of Pasini and Pierini and concomitant psoriasis and psoriatic arthritis, oral methotrexate at 20 mg per week resulted in marked improvement in skin atrophy after 3 months of treatment. [10]
Surgical treatment has generally not been helpful in improving the appearance of the atrophied skin.
Arpey et al [11] showed the Q-switched alexandrite laser (755 nm) to be effective in diminishing the hyperpigmentation by 50% after 3 treatments in 1 case.
Once the diagnosis is established, outpatient care consists of following up for the development of new lesions and the involvement of new areas. Ultrasonography may be used for diagnosis and follow-up. [12]
Background
In 1923, Pasini1 described a case of pigmentary atrophoderma that was both clinically and histologically unique from any known atrophy, including localized scleroderma, under the name progressive idiopathic atrophoderma. In 1936, in Argentina, Pierini and Vivoli2 extensively studied and defined the condition and its possible link to morphea. In 1958, the disorder was first introduced into the American dermatologic literature by Canizares et al,3 who reviewed Pierini's findings and renamed it idiopathic atrophoderma of Pasini and Pierini. Canizares et al believed that idiopathic atrophoderma of Pasini and Pierini differed sufficiently from morphea to classify it as a distinct entity.
Since then, reports of the co-occurrence of morphea and occasionally lichen sclerosus et atrophicus with idiopathic atrophoderma of Pasini and Pierini suggest a close relationship between idiopathic atrophoderma of Pasini and Pierini and morphea. In 2000, Yokoyama et al [13] reported that skin glycosaminoglycans extracted from idiopathic atrophoderma of Pasini and Pierini lesions are different from those in typical morphea lesions.
Pathophysiology
The cause of atrophoderma of Pasini and Pierini is not known. The pathophysiologic events that cause the discrete lesions seen clinically, as well as the timing of their appearance, are also unknown. Some authors have suggested a role for infection with Borrelia burgdorferi. Other authors have suggested a neurogenic origin based on occasional zosteriform lesion distribution, but there is not yet any firm evidence for this theory. [14]
Etiology
Idiopathic atrophoderma of Pasini and Pierini may represent a late atrophic stage of morphea.
Some findings suggest that the spirochete B burgdorferi may be involved in the pathogenesis of some cases of idiopathic atrophoderma of Pasini and Pierini. Buechner and Rufi [15] studied the sera of 26 patients with typical lesions. Ten (53%) of the 26 patients had immunoglobulin G anti–B burgdorferi antibodies, and 6 (14%) of control subjects had these antibodies. No immunoglobulin M antibodies were found.
Epidemiology
Frequency
United States
The exact incidence of idiopathic atrophoderma of Pasini and Pierini is not known. The small number of cases reported may reflect its asymptomatic nature rather than its true incidence.
International
Idiopathic atrophoderma of Pasini and Pierini is more frequently reported in Europe than in North America, paralleling the incidence of acrodermatitis chronica atrophicans and suggesting involvement of European Borrelia strains. As of 2022, there were only about 200 cases worldwide reported in the literature. [16]
Race-, sex-, and age-related information
Idiopathic atrophoderma of Pasini and Pierini is more common in Whites and is rarely reported in Blacks or Asians.
Idiopathic atrophoderma of Pasini and Pierini is more frequently encountered in women than in men, with a ratio of 6:1.
Idiopathic atrophoderma of Pasini and Pierini usually begins insidiously in individuals during the second or third decade of life. However, it has been described in individuals as young as 7 years and as old as 66 years. Four reports of congenital atrophoderma have been described in the literature. [17, 18, 19, 20]
Prognosis
Idiopathic atrophoderma of Pasini and Pierini has no known effect on overall health. The condition often runs a protracted course over 10-20 years and may self-resolve.
Patient Education
Excessive sun exposure may cause the more deeply pigmented lesional skin to become darker, resulting in further uneven discoloration of the skin. This may be perceived as a cosmetic problem.
What would you like to print?