Workup
Laboratory Studies
Although no routine laboratory findings are present in cutis laxa (elastolysis), a CBC count may reveal normochromic, normocytic anemia, while total protein and beta-2 microglobulin levels may be elevated.
Serum protein electrophoresis and quantitative immunoglobulins can be performed to assess for myeloma.
Direct immunofluorescence studies for IgG, immunoglobulin A (IgA), immunoglobulin M (IgM), C3, C1q, and fibrin may be performed to assess for related conditions, such as lupus erythematosus.
Serum copper, zinc, ceruloplasmin, alpha-1 antitrypsin, C4, rapid plasma reagent, and antinuclear antibody levels can be measured.
Serum and urine elastin peptide levels may be elevated.
Thyroid function tests may be considered in newborns with cutis laxa.
Direct mutation analysis may be performed to specifically differentiate forms of cutis laxa. [38]
Imaging Studies
An echocardiogram may be obtained. A chest radiograph can be obtained to help check for pulmonary involvement.
Other Tests
Pulmonary function tests may be performed
Procedures
A skin biopsy and/or a bone marrow biopsy may be performed.
Histologic Findings
No specific histologic abnormality is seen on routine stains with hematoxylin and eosin. On elastic fiber stains, all types of cutis laxa (elastolysis) show a reduction in the number of elastic fibers throughout the dermis, with remaining fibers being shortened, clumped, granular, or fragmented. In severe cases, no elastic fibers may be present, but only fine, dustlike particles scattered throughout the dermis can be seen. In cases preceded by an inflammatory eruption, such as urticaria or vesicles, the inflammatory infiltrate may be mononuclear (lymphocytes and histiocytes) or mixed, containing neutrophils. When vesicles are present, they are subepidermal, with papillary collections of neutrophils and eosinophils mimicking dermatitis herpetiformis. [39]
Note the image below.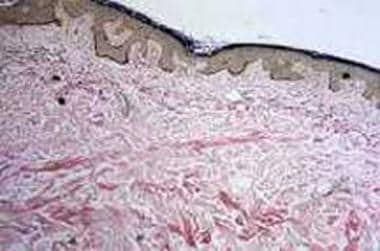 Marked diminution of elastic fibers in the lower dermis (Verhoeff-van Gieson stain). Courtesy of Dr F. Abreo.
Involved visceral organs show granular changes in the elastic fibers similar to those seen in the skin. Collagen abnormalities have also been described but are ultrastructurally nonspecific.
Electron microscopic examination reveals degenerative changes in the elastic fibers, which are variable from case to case. However, the most significant finding is the presence of electron-dense amorphous or granular aggregates that are irregularly distributed in the vicinity of the elastic fibers.
What would you like to print?