Workup
Histologic Findings
Unusually large numbers of elastic fibers occur in the papillary dermis. Both light and electron microscopy examinations show that the elastic fibers have an abnormal appearance. Elastic fibers are swollen and clumped in the idiopathic and reactive forms of elastosis perforans serpiginosa and have a thorny appearance in penicillamine-induced elastosis perforans serpiginosa (EPS), resembling bramble bushes or barbed wire. Abnormal elastic fibers, along with collagen fibers, inflammatory cells, and other cellular debris, comprise clumps of material that are extruded via an inflammatory granulomatous reaction. Two studies from Japan have reported the presence of a 67-kd receptor for elastin in the epidermis of elastosis perforans serpiginosa lesions. These may assist in the transport of the fibers to the surface. [11, 12]
Acid orcein-Giemsa stain highlights the components of the clumps, and aldehyde fuchsin stain demonstrates elastic fibers as a major constituent of the clumps. Verhoeff-van Gieson stain also may be used to highlight elastic fibers. As these masses impinge upon the epidermal base, an opening is created, and the material passes through it. Elastic fibers turn bright red with hematoxylin and eosin stain. The clump's arrival at the surface signals the development of epidermal papular umbilication and the eventual disgorgement of its contents to the exterior.
See the images below.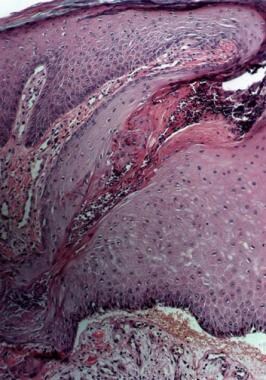 Histologic section of elastosis perforans serpiginosa stained with hematoxylin and eosin. Connective tissue fibers and cellular debris are extruded through the epidermis via a spiraling path.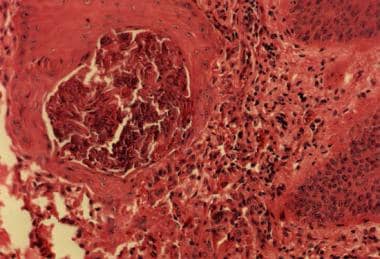 Cross-section of a nidus of fibers and debris of elastosis perforans serpiginosa in transit through the epidermis, stained with hematoxylin and eosin. Elastic fibers are red.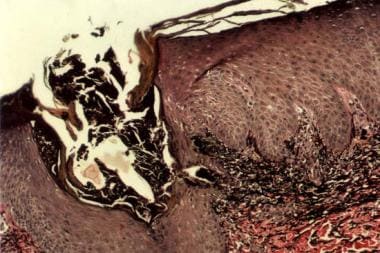 Connective tissue and debris of elastosis perforans serpiginosa emerging through the epidermis toward the surface, and elastic fibers in the nearby papillary dermis. The stain is a variation on acid orcein-Giemsa. Elastic fibers are black.
What would you like to print?