Presentation
History
Firm, skin-colored papules appear sequentially in multiple sites typically overlying the PIP but also the distal interphalangeal (DIP) and/or MCP joints of the hands. Dorsal toes are occasionally involved. Individual lesions enlarge into well-defined plaques and nodules. Complaints of pain and functional impairment of fine motor skills are rare. Cosmetic concerns may be raised. A history of repetitive trauma is often elicited.
Physical Examination
Knuckle pads are well-circumscribed firm dermal papules, nodules, or plaques approximately 0.5-3 cm in size, located on the extensor aspect of the joints of the hands and occasionally on the toes. Lesions may be bilateral, but typically are not symmetrical. If subjected to repetitive injury, knuckle pads may develop over virtually any bony prominence, but the PIP joint area is most commonly affected. See the images below.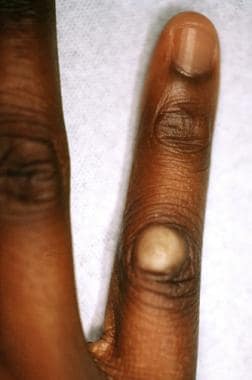 Knuckle pad over the proximal interphalangeal joint.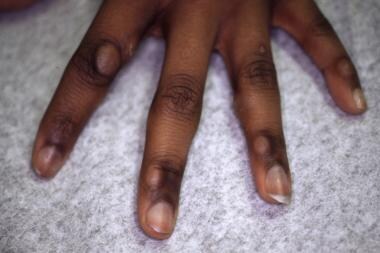 Multiple knuckle pads on various joints of the hand.
What would you like to print?