Presentation
History
Lesions may be asymptomatic, but tenderness and especially pruritus are frequently reported. The eruption is chronic, but has been reported to clear following improvement of the underlying related systemic disease (eg, diabetes mellitus, renal failure).
Physical Examination
The primary lesion is a small papule with silvery scale. This eventually enlarges to form a red-brown papule or nodule with a central keratin plug. Some, but not all, of the lesions appear to be follicular. These may coalesce to form larger keratotic plaques. Koebnerization is not ordinarily described as such, but a striking linearity of lesions sometimes is noted. The papules, nodules, and plaques of Kyrle disease tend to occur primarily on the legs, but also develop on the arms and in the head and neck region. Involvement of palms and soles is rare. Ocular changes, including keratotic lesions of conjunctiva and cornea, have been described in a single case report. [11] Note the image below.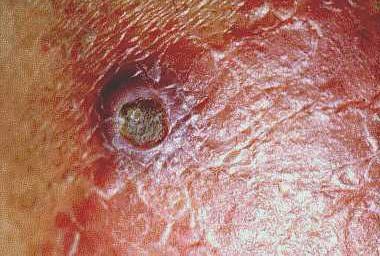 A typical lesion of Kyrle disease with central keratotic crater.
Causes
As described above, debate about the precise pathophysiology of the disease exists. Some cases appear to be idiopathic or inherited, but other examples of Kyrle disease are associated with systemic disorders. A case report by Kasiakou et al [6] noted regression of lesions following antimicrobial therapy, suggesting a role for bacterial infection in pathogenesis. The following list includes several of the associated systemic disorders:
What would you like to print?