Presentation
History
Lichen myxedematosus or papular mucinosis
Patients report a slow onset of asymptomatic or mildly pruritic papules, which may be localized or generalized. Patients are otherwise healthy and do not have systemic symptoms.
Scleromyxedema
Patients with this form present with more widespread progressive induration and decreased mobility of the face, fingers, and extremities. Patients are also noted to have cysts and urticarial lesions. Patients may report systemic symptoms, such as dysphagia or weakness, and symptoms that resemble those of organic brain disease. [1, 2]
Montgomery and Underwood described four clinical presentations and grouped the different manifestations in a classification system as follows [3] :
Generalized lichenoid papular form

Localized or generalized lichenoid papules

Urticarial plaques and nodular eruptions that usually lead to the lichenoid form
Physical Examination
Lichen myxedematosus, or papular mucinosis
The primary lesion is a 2- to 4-mm, dome-shaped, and flesh-colored or erythematous papule. Regarding the distribution, these lesions may coalesce into grouped lichenoid papules and are found on the dorsal hands, face, or extensor surfaces of the arms and legs. Papules often have a striking pattern of parallel ridges. In patients with the generalized lichenoid form, facial ridges and facial folds may be distorted; this condition is called leonine faces. Patients with leonine faces may have difficulty opening their mouths.
Note the image below.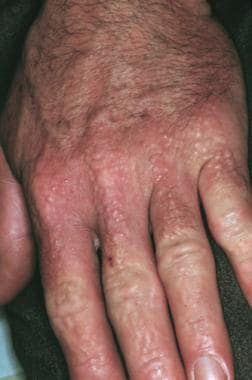 Grouped, erythematous, flesh-colored, dome-shaped papules are present on the hand and fingers.
Scleromyxedema
The primary lesions may involve widespread erythematous, indurated skin that resembling scleroderma, with diffuse tightness of the skin. The range of motion of the face, fingers, and extremities is decreased. The systemic manifestations include restrictive and obstructive pulmonary dysfunction, cardiovascular abnormalities, and polyarthritis. Obstructive and restrictive lung disease is often manifested by dyspnea on exertion.
Gastrointestinal symptoms (most commonly dysphagia) are related to esophageal aperistalsis. Severe proximal muscle weakness, polyarthritis, and symptoms resembling those of organic brain disease are present. Inflammatory myopathy is also reported. Ophthalmologic symptoms include ectropion and corneal opacities. Cardiovascular abnormalities occur in 10% of cases. One study revealed that digital vasoreactivity is the most common vascular abnormality.
What would you like to print?