Workup
Laboratory Studies
Serum protein immunoelectrophoresis generally reveals the presence of a serum paraprotein (usually 7S-IgG) with lambda light chains.
Few patients may have myeloma or Waldenström macroglobulinemia.
Thyroid function test results are normal.
Findings of other laboratory test are usually normal.
Imaging Studies
Chest radiographic findings are usually normal in healthy patients.
Other Tests
In patients with systemic symptoms such as dysphagia, dyspnea, or neurologic symptoms, the specific systems affected should be evaluated.
Histologic Findings
Lesions have large depositions of mucin in the dermis. Numerous plump stellate fibroblasts develop throughout the dermis. There is increased collagen deposition. The mucin stains with periodic acid-Schiff and Alcian blue at pH 2.5 but not pH 0.4, and it metachromatically stains with toluidine blue at pH 3.0. The mucin has been identified as hyaluronic acid, a nonsulfated acid mucopolysaccharide. [4]
Note the images below.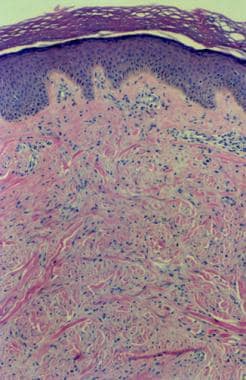 Low-power photomicrograph of a histopathologic specimen demonstrates the wide separation of the collagen fibers near the large collection of mucin in the dermis.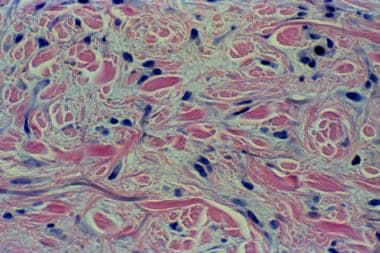 High-power photomicrograph of a histopathologic specimen reveals the large collections of mucin and plump stellate fibroblasts in the dermis.
What would you like to print?