Presentation
Physical Examination
Early striae present as flattened, thinned skin with a pink hue that may occasionally be pruritic (see the image below). Gradually, they enlarge in length and width and become reddish purple in appearance (striae rubra). The surface of striae may be finely wrinkled.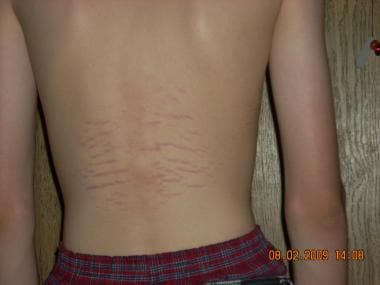 Striae distensae on the torso of a 13-year-old boy. One-day duration. Courtesy of Wikimedia Commons.
Mature striae are white, depressed, irregularly shaped bands, with their long axis parallel to the lines of skin tension (see the image below). They are generally several centimeters long and 1-10 mm wide. Gradually, some striae may fade and become inconspicuous. The natural evolution of stretch marks is similar to that of scar formation or a healing wound.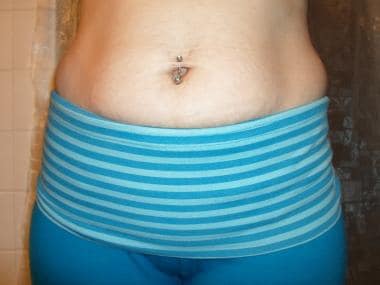 Female torso with striae distensae from pregnancy. Courtesy of Parenting Patch and Wikimedia Commons.
In pregnancy, striae usually affect the abdomen and the breasts. In an unusual case, a 28-year-old patient at 21 weeks' gestation with systemic lupus erythematosus presented with fluid-filled blisters on the bilateral breasts and abdomen. These bullous lesions were drained and dressed. They grew no microorganisms on culture. The authors concluded that the striae were benign, despite the unusual and alarming appearance. [5]
The most common sites for striae on adolescents are the outer aspects of the thighs and the lumbosacral region in boys and, in girls, the thighs, buttocks, and breasts. Considerable variation occurs, and other sites, including the outer aspects of the upper arms, are occasionally affected.
Striae induced by prolonged systemic steroid use are usually larger and wider than other phenotypes of striae, and they involve widespread areas, occasionally including the face.
Striae secondary to topical steroid use are usually related to enhanced potency of the steroids when using occlusive plastic wraps. They usually affect the flexures and may become less visible if the offending treatment is withheld early enough.
Causes
The factors that lead to the development of striae are poorly understood. No general consensus exists as to what causes striae. One suggestion is that they develop as a result of stress rupture of the connective tissue framework. It has also been suggested that they develop more easily in skin that has a high proportion of rigid cross-linked collagen, as occurs in early adult life. This is evident in striae due to pregnancy, lactation, weight lifting, and other stressful activities. Increased adrenal cortical activity has been implicated in the formation of striae, as in the case of Cushing syndrome. Additionally, the cellular and extracellular matrix alterations that mediate the clinical phenotype of stretch marks remain poorly understood.
What would you like to print?