Presentation
History
Patients may report the following signs or symptoms:
Enlargement of the fingers and the toes

Swelling or pain of the large joints

Coarsening of facial features

Grooves or depressions in the scalp

Excessive sweating of the palms, soles, or other areas

A sensation of warmth or burning in the hands and feet
Physical Examination
Digital clubbing and/or paronychial thickening may be observed (see the image below).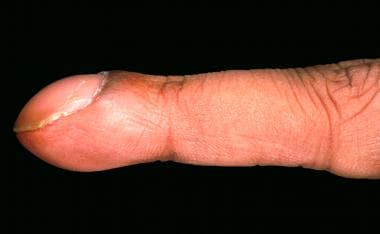 Clubbed fingernail.
Coarse facial features may be reminiscent of acromegaly. [39] Facial skin changes may include sclerodermoid thickening and furrowing of the skin on the forehead and the cheeks. Leonine facies may occur in advanced stages.
Cutis verticis gyrata (undulating grooved and thickened scalp) may become apparent during adolescence (see image below).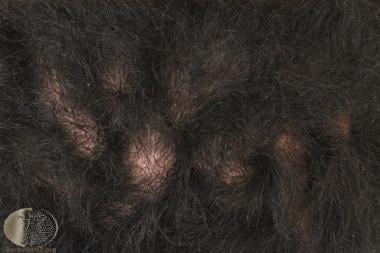 Cutis verticis gyrata. Courtesy of DermNet New Zealand (http://www.dermnetnz.org/assets/Uploads/dermal-infiltrative/cvg2.jpg).
Seborrheic dermatitis of the face and the scalp may be present.
Palmoplantar hyperhidrosis or generalized hyperhidrosis characterized by shiny and/or wet skin may be observed.
Dermatitis of the hands and the feet may be associated with hyperhidrosis.
Bilateral blepharoptosis may be present.
Facial acne may be present.
Complications
Patients with pachydermoperiostosis or primary hypertropic osteoarthropathy may develop severe kyphosis, restricted motion, and neurologic manifestations.
What would you like to print?