Presentation
Physical Examination
Acute pseudomembranous candidiasis (thrush)
White patches on the surface of the oral mucosa, tongue, or other parts of the body characterize thrush. Lesions develop into confluent plaques that resemble milk curds that when removed, reveal a raw, erythematous, and sometimes bleeding base.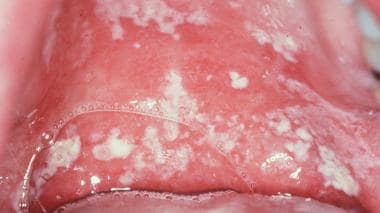 Pseudomembranous candidiasis.
Chronic hyperplastic candidiasis
This is characterized by thick, white plaques on the buccal mucosa or the tongue that are hard or rough to the touch. Unlike the lesions of acute pseudomembranous candidiasis (thrush), the lesions of chronic hyperplastic candidiasis are more adherent and difficult to scrape off. [5]
Homogeneous or speckled areas, which do not rub off (nodular lesions), can be seen. Speckled leukoplakia accounts for 3-50% of candidal leukoplakias. [17]
Acute atrophic (erythematous) candidiasis
Erythematous areas on the dorsum of the tongue, palate, or buccal mucosa are characteristic. Lesions on the dorsum of the tongue present as depapillated areas. Angular stomatitis may also be present. In those taking antimicrobials, a sore red mouth, especially of the tongue, may be present.
Chronic atrophic candidiasis (denture stomatitis)
Chronic erythema and edema of the mucosa that contact the fitting surface of the denture are characteristic, causing soreness and burning. The mucosa below the lower denture rarely is involved. It may co-present with angular cheilitis.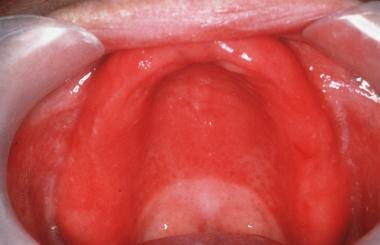 Denture-related stomatitis; a common form of oral candidiasis. From Scully C, Flint SF, Bagan JV, Porter SR, Moos K. Atlas of Oral and Maxillofacial Diseases. 2010. Informa, London.
Denture-related stomatitis is classified into three clinical types as follows:
Localized inflammation or a pinpoint hyperemia

Generalized erythema involving a part of, or the entirety of, denture-covered mucosa

Granular type (inflammatory papillary hyperplasia) commonly involving the central part of the hard palate and the alveolar ridge: Hyperplasia of oral mucosa can be seen
Angular stomatitis (perlèche, angular cheilitis)
This is a subset of erythematous candidiasis. Lesions affect the angles of the mouth, causing soreness, erythema, and fissuring. Both yeasts (candidal) and bacteria (especially Staphylococcus aureus) may be involved.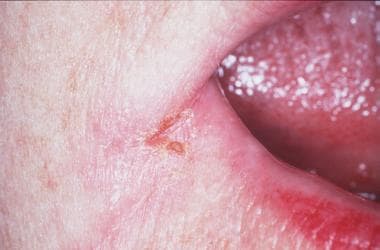 Angular cheilitis; a common form of oral candidiasis, typically seen in patients with denture-related stomatitis, especially those in whom the denture needs adjustment. In others, it may be a sign of diabetes, nutritional deficiency, or immune defect.
Angular cheilitis is not specific for mucosal candidiasis. It can also be seen with vitamin B-12 or iron deficiency, Down syndrome, orofacial granulomatosis, Crohn disease, HIV infection, or diabetes.
Median rhomboid glossitis (glossal central papillary atrophy)
This is also a subset of erythematous candidiasis. Median rhomboid glossitis is an erythematous, atrophic lesion on the dorsum of posterior tongue. It is most frequently seen in those who smoke or have HIV infection.
What would you like to print?