Presentation
History
Denture stomatitis usually occurs in a patient who wears a complete maxillary denture or a partial denture. The presence of deteriorating temporary soft denture lining material and an improperly matched cleanser (which generally is the case) is associated with an increased presence of candidal organisms within the biofilm. [20, 21]
In almost all patients, the duration of the lesion is usually unknown because of its asymptomatic nature.
On rare occasions, patients may complain of slight bleeding and swelling in the involved area, as well as a burning sensation, a xerostomialike quality, or cacogeusia. [22]
Physical Examination
Although symptoms are uncommon, the clinical presentation of erythema and edema in the part of the palatal mucosa covered by the denture base is a diagnostic finding. Intense erythema is the most common finding. See the image below.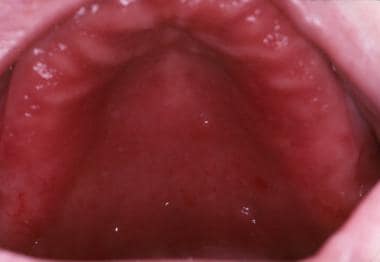 A variably intense erythema distributed over the part of the mucosa covered by the denture base is diagnostic of denture stomatitis.
At times, an obvious fungal infection in the form of white surface colonies or plaques may be observed on the mucosal surface. Variably intense erythema, which may also be associated with scattered petechiae, is distributed over the mucosa covered by the base of the denture but not beyond. Palpation of the involved mucosa reveals no tenderness or tissue friability. The severity of denture stomatitis can vary (see Staging).
What would you like to print?