Presentation
History
Nicotine stomatitis first becomes visible as a reddened area and slowly progresses to a white, thickened, and fissured appearance. The palate has numerous minor salivary glands. They become swollen and the orifices become prominent, giving the tissue a speckled white and red appearance. Patients with nicotinic stomatitis are usually asymptomatic. An association of nicotinic stomatitis with human papillomavirus (HPV) infection, alcohol intake, genetics, and diet are unknown. [16]
Physical Examination
Lesions of nicotinic stomatitis are exclusively found on the palatal mucosa. They have a white cobblestone appearance, often with a red dot in the center of the cobblestone. The nicotinic stomatitis lesion cannot be wiped off and can have some fissuring. Nicotinic stomatitis is primarily limited to the posterior hard palate and less often to the adjacent soft palate. See the images below.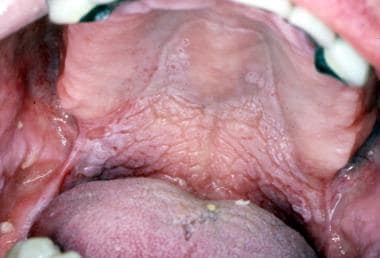 Fissured appearance of nicotine stomatitis. Notice the gingival-palatal areas where a partial denture protects the mucosa from the heat and smoke.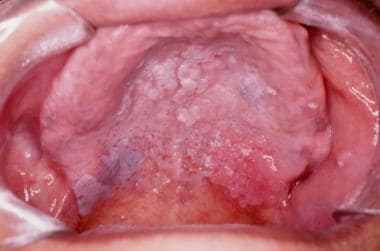 Nicotine stomatitis in a reverse smoker. Notice the increased hyperkeratosis, hyperplasia, and swelling of minor salivary glands.
What would you like to print?