Presentation
History
The onset of drug-induced gingival overgrowth in susceptible individuals is insidious. Gingival overgrowth is asymptomatic, except in the presence of poor oral hygiene and dental plaque because patients may develop bleeding with tender and swollen gums. Patients with mal-positioned teeth, periodontal disease, and poor oral hygiene are at risk of developing gingival overgrowth. Severity varies depending on the oral health prior to the beginning of therapy; however, not all patients with poor oral hygiene develop drug-induced gingival overgrowth.
Phenytoin-induced gingival overgrowth
This is more likely to occur in patients with gingivitis and dental plaque.
Increased dental plaque has been suggested to induce local inflammation and to serve as a reservoir for phenytoin.
Cyclosporine-induced gingival overgrowth
In susceptible patients (ie, presence of dental plaque, swollen gums, high dose of cyclosporine), gingival overgrowth may develop by the third month of therapy.
Patients with poor oral hygiene and displaced teeth tend to develop bleeding gums upon probing.
Aggressive plaque control and routine oral hygiene help in maintaining gums but may not prevent the onset of gingival overgrowth in susceptible individuals.
Cyclosporine-induced gingival overgrowth is reversible once therapy is discontinued or when the dose is reduced. [31, 32]
Cyclosporine- and nifedipine-induced gingival overgrowth
Nifedipine potentiates the adverse effect (ie, gingival overgrowth) of cyclosporine. [33, 34]
Calcium antagonist–induced gingival overgrowth
Oral hygiene plays a decisive role in the development of gingival enlargement. [35]
Substantial evidence in the dental literature indicates that gingival enlargement can be controlled successfully, even under the continuous administration of calcium antagonists, by meticulous professional and individual oral hygiene.
Physical Examination
Gingival enlargement occurs primarily on the labial gingival mucosa and in between the teeth (interdental papillae area). Gingival overgrowth is more pronounced on the labial aspect of the maxillary gingiva and in the interdental papillae.
See the images below.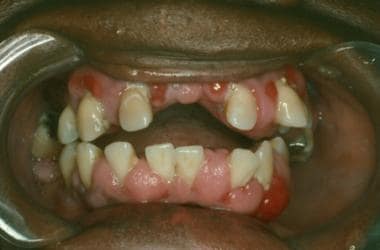 Enlarged upper and lower gingival mucosa in a partially edentulous patient. Notice how the overgrown tissue tends to engulf the teeth. Poor oral hygiene and poor dentition are the most likely contributing factors in this patient receiving immunosuppressive therapy.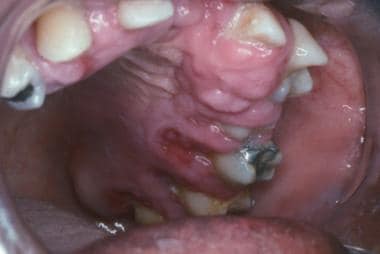 A palatal view of enlarged upper and lower gingival mucosa in a partially edentulous patient. Notice the severity of the gingival enlargement. If left untreated, patients develop severe periodontal disease and lose teeth.
What would you like to print?