Treatment
Medical Care
Dental treatment of tooth discoloration involves identifying the etiology and implementing therapy. Medical treatment also may be warranted, depending on the etiology of the tooth discoloration.
Diet and habits: Extrinsic staining caused by foods, beverages, or habits (eg, smoking, chewing tobacco; see Causes and Pathophysiology) is treated with a thorough dental prophylaxis and cessation of dietary or other contributory habits to prevent further staining. [27]

Toothbrushing: Effective toothbrushing twice a day with a dentifrice helps to prevent extrinsic staining. Most dentifrices contain an abrasive, a detergent, and an antitartar agent. In addition, some dentifrices now contain tooth-whitening agents.

Professional tooth cleaning: Some extrinsic stains may be removed with ultrasonic cleaning, rotary polishing with an abrasive prophylactic paste, or air-jet polishing with an abrasive powder. [28] However, these modalities can lead to enamel removal; therefore, their repeated use is undesirable. [29]

Enamel microabrasion: This technique involves the rotary application of a mixture of weak hydrochloric acid and silicon carbide particles in a water-soluble paste. [30] The resultant surface is smooth and has a glazed appearance. Enamel microabrasion is indicated for the removal of superficial intrinsic tooth discoloration, including that caused by fluorosis and decalcifications secondary to orthodontic brackets or bands. Enamel microabrasion may be used in conjunction with bleaching.

Bleaching (tooth whitening): Early bleaching techniques were developed almost a century ago, and all of the techniques involved a process of oxidation. Today, with proper patient selection, bleaching is a safe, easy, and inexpensive modality that is used to treat many types of tooth discoloration. Usually, bleaching is not indicated for the treatment of discoloration of the primary teeth. Bleaching includes 2 types of techniques: vital and nonvital.

Vital bleaching

Bleaching of vital teeth is indicated primarily for patients with generalized yellow, orange, or light brown extrinsic discoloration (including chlorhexidine staining), although it may be helpful in ameliorating mild cases of tetracycline-induced intrinsic discoloration and fluorosis.

Currently, the bleaching agents most commonly used are carbamide and hydrogen peroxide. [31] When applied in higher concentrations, the agents produce more significant bleaching than they do without these measures.

In office "power" bleaching involves the use of a 15-40% hydrogen peroxide solution and must be performed by a dental professional because careful isolation of the teeth is required to protect the soft tissues from the caustic effects of the bleaching agent. [32]

The use of home bleaching systems is currently popular; they may be used alone or in combination with in-office bleaching. The systems must be used under the careful supervision of dentists or dental hygienists. Patients apply a 10-22% carbamide peroxide solution into a custom-made mouthguard. After repeated daily and/or nightly (often while patients sleep) applications for 2-6 weeks, the teeth are gradually bleached. The public is advised to avoid the use of home bleaching systems that are not approved by the American Dental Association and those marketed for use without professional supervision.

Whitening strips, using a 5.3% hydrogen peroxide–impregnated polyethylene strip, offer an at-home alternative to the above methods and can be recommended for maintaining already whitened teeth. [33]

Whitening toothpastes, containing 1% or less peroxide, are minimally effective.

With darker stains, the best results are achieved by using a combination of office and home bleaching systems. Most patients also require periodic re-treatment.

Clinicians should be aware of potential adverse reactions and contraindications for bleaching. Approximately two thirds of patients have short-term, minor tooth sensitivity to cold and/or gingival irritation. Tooth surfaces, particularly exposed roots or enamel surfaces with defects secondary to incomplete amelogenesis, are porous to the bleaching agent and are more likely to develop cold sensitivity. Gingival irritation usually is related to improper fitting of the custom-made mouthguard.

Allergic reactions to the bleaching agent are exceedingly rare.

No adverse reactions are documented in pregnant or breastfeeding women or in patients who smoke; however, bleaching is not advised in these patients.

Nonvital bleaching

Nonvital bleaching is indicated for the treatment of teeth with discoloration secondary to pulpal degeneration. This technique involves placing a mixture of 30% hydrogen peroxide and sodium perborate into the pulp chamber for as long as 1 week. [34]

For nonvital bleaching, a tooth with an unrestored crown is ideal.

Cervical external root resorption is a possible adverse sequela, especially in teeth that become pulpless before the patient is aged 25 years. Special intracanal barrier restoration helps to minimize this adverse reaction.
Patients who undergo dental procedures (eg, bleaching, restorations) for tooth discoloration should be monitored periodically. In addition to routine dental and periodontal evaluation, some patients may require additional bleaching treatments to maintain aesthetic results.
Surgical Care
Dental restorations
Teeth discolored by dental caries or dental materials require the removal of the caries or restorative materials, followed by proper restoration of the tooth. Partial (eg, laminate veneers as seen in the image below) or full-coverage dental restorations may be used to treat generalized intrinsic tooth discoloration in which bleaching is not indicated or in which the aesthetic results of bleaching fail to meet the patient's expectations.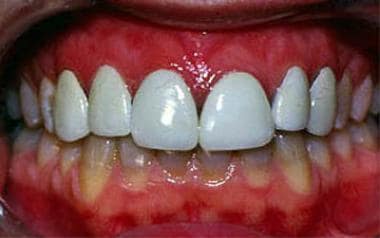 Porcelain laminate veneers for the treatment of tetracycline staining.
Patients with severe dental involvement may be candidates for extractions; after which either partial or complete removable dentures or osseointegrated implant-borne prostheses can be used.
Patients with genetic defects in the formation of enamel or dentin present with a wide range of clinical manifestations. In some patients with severe AI or DI, extractions may be required; after which removable dentures or implant-borne prostheses can be used.
Dental extractions and implantations
Dental extractions may be required for severely carious teeth that are nonrestorable or for teeth with large periodontal defects that are refractory to periodontal rehabilitation. Previously endodontically treated teeth that develop further dentoalveolar infections require intracanal endodontic re-treatments, endodontic surgery of the tooth apex, or extraction. [35]
Severely involved teeth with AI or DI also may require extraction.
Tooth replacement with osseointegrated implants is a feasible option in many patients, depending on the medical condition of the patient, the quality and quantity of the maxillary and/or mandibular bone, and the proximity of the tooth to nerves and sinuses.
Persons who smoke are poor candidates for implantation.
Dental professionals with training in implant surgery and extensive experience should perform the operation.
Consultations
Consultations with the appropriate medical providers may be required if the underlying etiology of tooth discoloration is related to a systemic disease (eg, porphyria, AI).
Endodontists, prosthodontists, periodontists, and oral and maxillofacial surgeons and/or dental specialists may assist with therapies.
Dentists trained in aesthetic dentistry may provide expert consultation for cosmetic dental procedures.
Diet and Activity
Diet
Provide counseling to the patient if the source of the extrinsic dental staining is the result of diet or habits (eg, eating blueberries, using chewing tobacco). Removal of the extrinsic source is critical for effective treatment.
Activity
Recommend that all patients perform daily oral hygiene by using a toothbrush, a dentifrice containing fluoride, and dental floss.
Individuals who wear dentures should brush the prostheses after each meal and use commercially available denture soaks and scrubs to keep the prostheses free of plaque, calculus, and stains. Partial and complete removable prostheses (dentures) should always be removed during sleeping hours.
What would you like to print?