Workup
Procedures
Patch testing (see the image below) is useful to distinguish irritant reactions from allergic reactions. [54, 55, 56, 57] Patch testing before placement of a prosthesis is not indicated. Reading at 10 days is recommended because reactions to gold, palladium, and mercury salts may be delayed. A patch test series for contact stomatitis should include the following [58, 59] :
Beryllium chloride 1% pet

Gold sodium thiosulfate 2% pet

Metallic mercury 1% pet (see image below)

Ammoniated mercury 1% pet (mercury ammonium chloride)

Palladium chloride 1% pet

Amalgam without mercury 20% pet (contains silver 13.9%, copper 2.36%, tin 3.54%, and zinc 0.2%)

Amalgam with mercury 5% pet (contains mercury 2.5%, silver 1.73%, copper 0.3%, tin 0.44%, and zinc 0.03%)

Methacrylates: 2-Hydroxyethylmethacrylate 2% pet

2,2-bis (2-Hydroxy-3-methacryloxy-propoxyl)-phenylpropane (BIS-GMA) 2% pet

Benzalkonium chloride 0.1% pet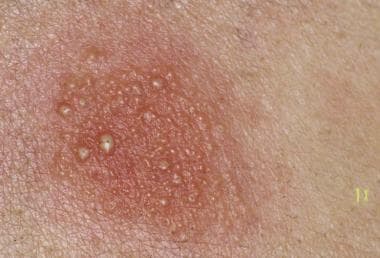 Positive patch test result to mercury.
For direct testing of the oral mucosa, the suspected allergen is placed on the lip mucosa as is, or it is incorporated in Orabase. Reading is performed at 24 hours.
Skin prick tests are routinely used for diagnosing a latex allergy. They are also useful in cases of suspected food allergy (see the image below).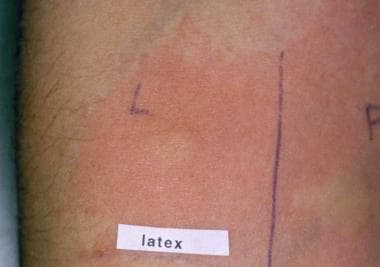 Positive prick test result to latex.
Use test with rubber latex gloves is often positive in patients with a latex allergy.
Biopsy may be performed.
Histologic Findings
Histologic study excludes neoplasia in long-standing lesions. A 3- to 4-mm punch biopsy is usually sufficient. Histopathologic examination in contact stomatitis can show changes similar to those in allergic contact dermatitis, with epithelial spongiosis and perivascular lymphohistiocytic infiltration. In addition, lichenoid changes of lymphocytic effacement of the dermoepithelial junction with, at times, vacuolar changes and necrotic epithelial cells, may be seen.
Histopathology findings cannot help distinguish between oral lichenoid reactions associated with amalgam and oral lichen planus.
What would you like to print?