Workup
Imaging Studies
Intraoral radiographs, in particular periapical and bite-wing film views, are needed to confirm this diagnosis and to determine the extent of tooth destruction and if the inflammatory lesion involves the surrounding alveolar bone. Radiographic findings demonstrate a large coronal radiolucency that extends to the pulpal chamber with focal loss of tooth structure, while the root apices may be either open or closed.
Although no bony changes are usually observed, the surrounding alveolar bone may reveal either an incipient periapical radiolucency that is consistent with chronic apical periodontitis or a localized radiopacity that is referred to as focal sclerosing osteomyelitis (condensing osteitis). In addition, vertical alveolar bone height may be decreased surrounding the involved tooth, which is indicative of periodontitis.
Radiographic imaging is required to determine the most appropriate treatment for the involved tooth.
Other Tests
Diagnosis and determination of the most appropriate treatment options are based on adjunctive tests, including response to percussion, thermal stimuli, and electric pulp testing. In most cases, the results of these adjunctive tests are similar to those obtained for healthy teeth, which is in contrast to most teeth that exhibit irreversible pulpitis. The normal responses should not confuse the practitioner that the pulpal tissue is healthy and therefore requires only conservative treatment. In addition, these tests help to differentiate a true pulp polyp from hyperplastic gingivitis that is overlying a cavitation from a nonvital tooth (see the image below).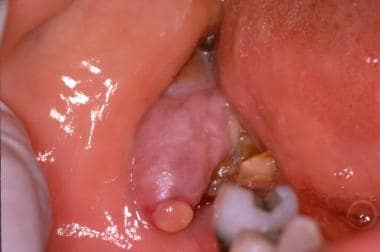 Fibrosed pyogenic granuloma of the mandibular gingiva that partially surrounds a carious molar with crown destruction. Reactive gingival lesions that extend into a large carious lesion of an adjacent tooth may resemble a pulp polyp.
Histologic Findings
Affected teeth and pulpal tissue are occasionally submitted for gross and histopathologic examination. This examination is most important when the pulp polyp is diagnosed in multiple teeth and when the cause for this uncommon pulpal response is not obvious at clinical examination.
Microscopic findings reveal a mass of granulation tissue protruding from the crown of a fractured or carious tooth that resembles a pyogenic granuloma. The fibrovascular stroma contains numerous small, delicate vascular channels and a prominent inflammatory infiltrate composed of primarily lymphocytes, plasma cells, and neutrophils. Although the surface may be ulcerated, it is covered by stratified squamous epithelium that resembles oral mucosa in approximately 50% of these inflammatory hyperplastic lesions. (See the image below.) The source of this epithelium appears to be from the engraftment of desquamated oral epithelial cells or the migration of the epithelium from the adjacent gingival tissues. In more mature lesions that are covered with squamous epithelium, the granulation tissue is replaced by fibrous connective tissue with minimal inflammation and foci of dystrophic calcification.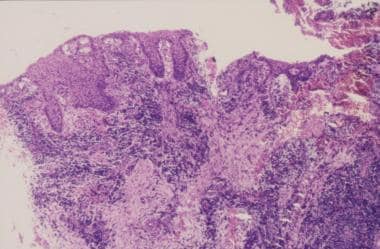 Low-power photomicrograph of a pulp polyp demonstrating inflamed fibrovascular tissue that is lined by stratified squamous epithelium (hematoxylin and eosin, original magnification X40).
Bacteria (primarily gram positive) are found on the surface of the polyp and within the carious lesion. (See the image below.) In many cases, the histopathologic changes are limited to the coronal pulp tissue with the apical tissue exhibiting only mild vasodilation and minimal chronic inflammation.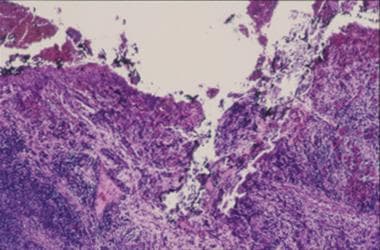 Intermediate-power photomicrograph of a pulp polyp with superficial bacteria and exogenous, pigmented material overlying the surface epithelium (hematoxylin and eosin, original magnification X100).
Ultrastructural examination of nerve fibers associated with the pulp polyp exhibits variable findings within the same tooth, ranging from normal to moderate or severe degeneration of both myelinated nerve fibers and unmyelinated nerve fibers.
What would you like to print?