Presentation
History
Epulis fissuratum develops slowly over a prolonged period of time in patients with ill-fitting dentures. It is associated with a denture flange that may be either a full or partial denture. [2]
Typically, patients with epulis fissuratum are asymptomatic. [5]
Physical Examination
Examination of an epulis fissuratum patient typically reveals folds of hyperplastic mucosa, which encompass the border of the denture flange. The edge of the denture usually fits in a groove between the folds. The lesions are most frequently observed at the facial aspect of the denture. The occurrence of this on the lingual surface is unusual. They are more often observed in the anterior portion of the jaws; however, a predilection for the maxilla or the mandible does not seem to exist.
The surface of the epulis fissuratum mass tends to be smooth; however, occasionally, it is ulcerated (most often within the depth of the groove) or papillary.
The size of the epulis fissuratum lesion is variable; some lesions are small, but they can be extensive and involve the entire length of the vestibule. [6]
Although frequently of normal mucosal color, erythema may be associated with inflammation. Some lesions have a more pyogenic granuloma –like appearance because of capillary proliferation.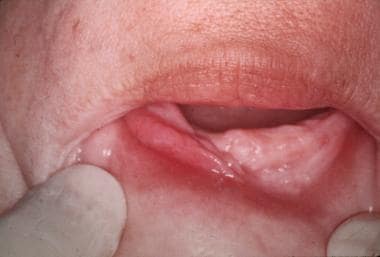 An epulis fissuratum in the anterior part of the mandible shows a central groove where the denture flange rests. Note the inflammatory erythema. The surface of the lesion is usually smooth as shown in the image.
What would you like to print?