Workup
Procedures
Surgically excise and microscopically examine the epulis fissuratum.
Histologic Findings
Epulis fissuratum is a hyperplastic reactive lesion, often with inflammatory and reparative phases. The histologic picture can be variable. [7] Most frequently, a dense fibrous hyperplasia occurs, often with varying degrees of inflammation and vascularity. Because capillary proliferation is considerable, an overlap with pyogenic granuloma occurs. Mucous glands are often present in the specimen and may show a chronic sialadenitis. Occasionally, the glands may have an associated lymphoid hyperplasia and papillary ductal hyperplasia. The epithelium may be atrophic or hyperplastic and occasionally shows a pseudoepitheliomatous hyperplasia. Ulceration can occur. Infrequently, chondroid or osseous metaplasia can develop within the mass.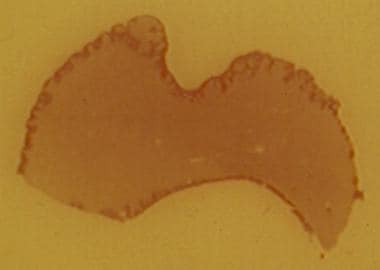 A view of a whole mount of a tissue section taken from an epulis fissuratum shows that it is essentially a fibrous hyperplasia. The central groove can be observed, and, in this patient, papillary hyperplasia is present in some areas.
What would you like to print?