Presentation
History
No symptoms are associated with smoker's melanosis. A smoking history is needed to substantiate the diagnosis.
Physical Examination
Smoker's melanosis is a brownish discoloration of the oral mucosa. The process affects most often the anterior facial gingiva of both jaws, but with a predilection for the mandible. Pipe smokers more frequently display pigmentation of the commissural and buccal mucosae. [5] In people who engage in reverse smoking (ie, the lit end of a cigarette placed in the oral cavity), pigmentation of the hard palate is common. If the areas become depigmented and erythematous, squamous cell carcinoma has been found in 12% of these patients, suggesting that melanin might have a protective role against noxious substances in the tobacco smoke. [22]
Haresaku et al found both gingival and lip pigmentation to be strongly associated with smoking.
In a Nigerian study, the buccal mucosa was the most frequently pigmented site in smokers. [9]
See the images below.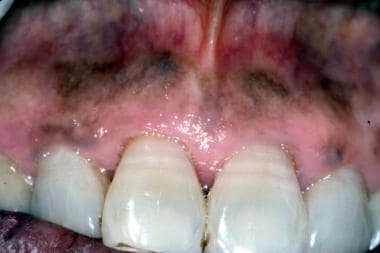 Several focal brownish pigmentations of the maxillary anterior gingiva.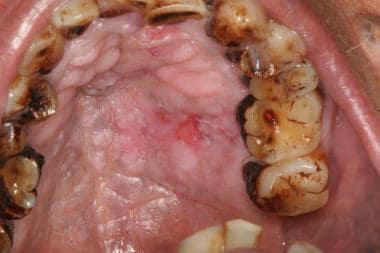 A reverse smoker with white and pigmented palatal mucosa and a focal area of erythema.
What would you like to print?