Workup
Laboratory Studies
Generally, no laboratory studies are necessary to confirm the diagnosis of smoker's melanosis; clinical impression is usually sufficient, in combination with a history of smoking.
Procedures
If the pigmentation is in an unusual location, an ulceration is present, or the lesion is elevated, a biopsy is necessary to exclude other pigmented conditions (eg, nevi, melanoma). Although smoker's melanosis is an abnormal deposition of melanin, the lesion itself is not associated with an increased risk of melanoma or carcinoma.
Imaging Studies
Imaging studies are not usually necessary. Radiographic examination of the area might be valuable only if an amalgam tattoo is also considered clinically, as the presence of minute radiopaque speckles would be indicative of an amalgam tattoo.
Histologic Findings
Increased melanin pigmentation is noted in the basal cell layer of the epithelium. Melanin incontinence may also be noted in the underlying lamina propria. [23] See the image below.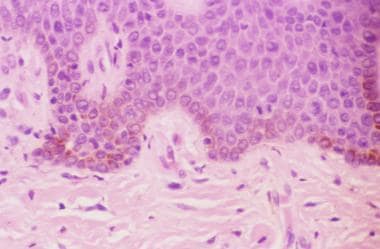 Gingival biopsy of a basilar melanosis (a brownish granular pigment present along the basal cells).
What would you like to print?