Overview
Background
Granular cell tumors are uncommon lesions, although the head and neck region accounts for approximately 50% of all lesions. A somewhat similar lesion, congenital epulis, occurs less frequently than the granular cell tumor and occurs on the alveolar ridge of newborns. Note the images below.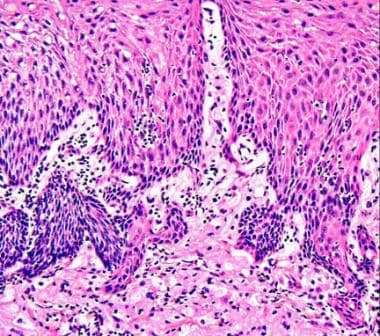 Granular cell tumor.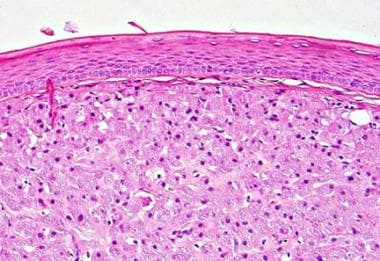 Congenital epulis.
Pathophysiology
In 1926, Abrikossoff first described granular cell tumors. The origin of these lesions was believed to be from skeletal muscle because they were found insinuated within muscle. For many years, these lesions were referred to as granular cell myoblastoma. It was not until the advent of electron microscopy that the origin from muscle came into question.
Granular cell tumors now generally are accepted as being of neural origin, either Schwann cell or neuroendocrine. Immunocytochemical markers for S-100, neuron-specific enolase, myelin basic protein, and protein gene product 9.5 (PGP9.5) support a neural origin. [1]
Malignant granular cell tumors are extremely uncommon, accounting for less than 2% of granular cell tumors. [2] Granular cell tumor with an overlying squamous cell carcinoma has been reported. [3]
Congenital epulis is a lesion found on the alveolar ridge of newborns. Histologically, these lesions appear similar to the granular cell tumor; however, congenital epulis is negative for S-100 and other markers found in the granular cell tumor. Pseudoepitheliomatous hyperplasia, a frequent finding in granular cell tumors, generally is not present over the congenital epulis. Malignant congenital epulis has not been reported.
Etiology
The etiology of the granular cell tumor and congenital epulis is unknown.
Epidemiology
Frequency
Oral granular cell tumor is too uncommon to accurately assess an incidence rate.
Race
Granular cell tumors occur more commonly in blacks than in whites. Congenital epulis does not appear to have a racial predilection.
Sex
Granular cell tumors occur twice as frequently in females than in males. The occurrence rate for congenital epulis is approximately 8-10 times more common in females than in males.
Age
The age range for occurrence of granular cell tumors is from the second to the eighth decade, most frequently in the fourth and fifth decades. [4]
Prognosis
The prognosis is excellent. Recurrence is uncommon.
What would you like to print?