Overview
Background
In 1943, Field and Ackermann described the features characteristic of intraoral nevi. [1] Oral melanocytic nevi are benign proliferations of nevus cells in the epithelial layer, the submucosal layer, or both. As such, they are classified as junctional, intramucosal, and compound nevi. Nevi may also be classified as congenital or acquired. Unlike their cutaneous counterparts, oral melanocytic nevi are rare.
Intramucosal nevi are typically light brown and dome-shaped. These are the most common type, accounting for 64% of all reported oral nevi. [2] Note the image below.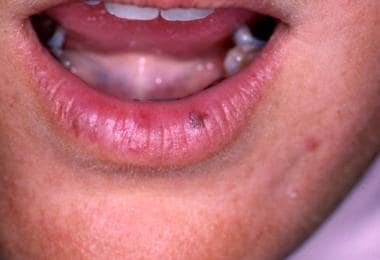 Intramucosal nevus on the lower lip. This brown papule measured 0.6 cm in diameter and was only slightly raised. Melanotic macules are invariably flat.
The common blue nevus is the second most common type found in the oral cavity, accounting for 16.5-36% of all oral nevi. [3] Note the image below.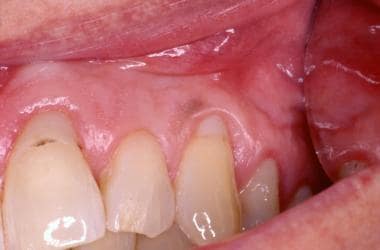 Blue nevus on the gingiva. This 1-cm saucer-shaped tan macule on the gingiva has histologic features consistent with those of a blue nevus, which is the second most common type of oral nevus. This location is atypical because most blue nevi occur on the palate.
Junctional and compound nevi are uncommon, accounting for only 3-6% and 5.9-16.5%, respectively. [2, 4, 5]
Rarer types include Spitz nevi, cellular blue nevi, congenital nevi, combined nevi, balloon cell nevi, epithelioid blue nevi, plaque-type blue nevi, halo nevi, and neurotized nevi. [6, 7, 8, 9, 10, 11, 12, 13, 14, 15, 16, 17, 18, 19, 20, 21, 22, 23, 24, 25, 26] Dysplastic nevi have not been reported in the oral mucosa.
Pathophysiology
Nevus cells are derived from the neural crest. These cells migrate to the skin and oral mucous membranes during embryogenesis. Nevus cell formation probably begins with the proliferation of melanocytes along the basal cell layer and is possibly associated with elongation of the rete ridges. Nevus cells either lack contact inhibition or lose it shortly after the proliferation process begins. They retain melanin pigment and form nests or thèques.
Nevus cells have the ability to migrate from the basal cell layer into the underlying submucosa. Eventually, they may separate from the epidermis. Junctional nests may be lost later, and nevus cells may be confined to the submucosa. As the nevus cells penetrate into the submucosa, their pigmentation diminishes.
Genetic analysis has revealed V600E point BRAF mutation in both oral benign and malignant melanocytic lesions. [27]
Epidemiology
Frequency
United States
The incidence is 0.1-1.15% in the United States. [28, 29] Lesions may be underreported because they often go undetected.
Mortality/Morbidity
No case of melanoma arising in or around an oral melanocytic nevus has been described.
Race
Oral nevi may occur in persons of all races. They are reported more frequently in white patients (55%) than in black patients (23%). [28] The apparent predominance of oral nevi in whites over Asians (14%) and Hispanics (7%) may be due to the over-representation of this group among patients who underwent biopsies.
Sex
Oral mucosal nevi have a slight female predominance (1.5:1 female-to-male ratio), except for the blue nevi type, which occurs equally in both sexes. [4]
Age
The average age at diagnosis is 35 years (range, 3-85 y). [4] Male patients tend to be a few years older than female patients. Patients with junctional and compound nevi are relatively younger, with an average age at diagnosis of 22 and 24 years, respectively.
What would you like to print?