Workup
Laboratory Studies
The same tests for cutaneous nevi are available for the assessment of mucosal lesions if concern exists after histologic analysis.
Imaging Studies
Imaging studies typically are not indicated. Periapical radiography may be helpful in differentiating an amalgam tattoo from a nevus by demonstrating minute opaque particles. Angiography may be performed to exclude vascular anomalies.
Other Tests
Aspiration may be performed to differentiate vascular lesions from melanocytic lesions.
Procedures
Biopsy and histologic examination of all pigmented and nonpigmented oral lesions are indicated to confirm the nature of the lesion. The primary diagnostic procedure is excisional biopsy. [45] Incisional biopsy may be performed in lesions larger than 1-2 cm. The incision should be made in the nodular areas, if they exist, and the incisions should start from the center, not from the periphery of the lesion. See the image below.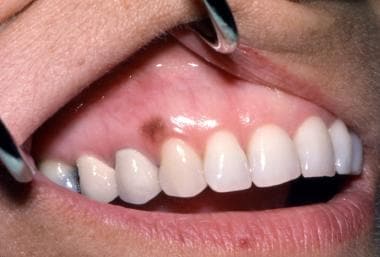 This biopsy-proven intramucosal nevus on the gingiva is unusual because it is not raised and has an irregular outline.
Histologic Findings
Oral melanocytic nevi are classified as junctional, compound, or intramucosal (intra–lamina propria) nevi, similar to their cutaneous counterparts. In junctional nevi, there is proliferation of benign melanocytes along the epithelial basement membrane. In compound nevi, the melanocytes are found both in the basal cell layer and in the superficial lamina propria. In intramucosal nevi, the melanocytes are located in the lamina propria and there is no epithelial component. Oral blue nevi are intramucosal proliferations of dendritic melanocytes containing abundant melanin granules in the lamina propria. Combined oral nevi have histologic features of both melanocytic nevi and blue nevi. Intraoral nevi may rarely present histologically with pseudoepitheliomatous hyperplasia. [46]
Oral nevi may also be classified as congenital or acquired. Congenital nevi penetrate the connective-tissue layer in a diffuse sheetlike pattern and tend to "split" into collagen bundles. [15] Perivascular and periappendageal involvement are likely to be congenital nevi.
Immunohistochemical studies may be performed if warranted. The Melan A, MART-1, and Fontana-Masson silver stains react the same way for oral and cutaneous pigmented lesions. Immunoreactions to S-100 protein, S-100 alpha, and S-100 beta antibodies are detected in benign oral nevi, while oral mucosal melanomas in general do not react with the beta subunit, unlike melanomas in the skin. [47] The round cells and spindle cells of benign and malignant oral lesions express HMB-45 and S-100 antigens differently. [48] S-100 expression is more intense and more frequent than HMB-45 expression in the small round cells of intramucosal nevi. The opposite is true in the round cells of mucosal melanomas, for which HMB-45 staining is greater.
In primary oral melanomas, minichromosome maintenance 2 is a more sensitive proliferation marker than Ki-67 and geminin. [49] The ubiquitin protein Skp2 may be a useful marker to differentiate oral benign and malignant melanocytic lesions. [50] High levels of this protein are expressed only in the latter.
What would you like to print?