Presentation
History
Although melanotic neuroectodermal tumor of infancy (MNTI) is classified as a benign lesion, it is often clinically worrisome because of its rapid onset and alarming local growth rate. [19, 21] Often, sucking and feeding are impaired secondary to the swelling. [11, 22] The patient usually is asymptomatic.
Physical Examination
More than 90% of cases of melanotic neuroectodermal tumor of infancy (MNTI) occur in the head and neck region, with a striking predilection for the anterior portion of the maxilla. In fact, the maxillary bone is the location of approximately 61% of reported cases. [18] Other less frequently affected sites include the skull (16%), the epididymis and testis (9%), the mandible (6%), and the brain (6%). [18] A few cases have been reported in unusual locations such as the subcutaneous soft tissue of the thigh and forearm, the femur, the fibula, the mediastinum, the shoulder, and the uterus. [7, 23, 24, 25, 26]
All but two of the reported cases in the literature have been solitary lesions. [27, 28]
The typical MNTI begins as a nonulcerated, lightly pigmented, blue or black lesion on the anterior aspect of the maxilla and rapidly expands to form a swelling or tumescence (see the image below) that is cosmetically obvious to the parents of the infant.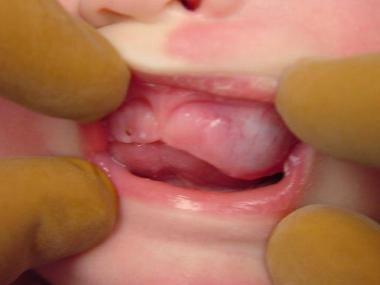 Melanotic neuroectodermal tumor of infancy presents as a rapidly growing bluish mass on the anterior aspect of the maxilla.
The intraoral lesion appears as a sessile, lobulated mass, often reaching 2-4 cm in diameter by the time of diagnosis. Bone destruction and displacement of teeth often occur because of the intraosseous location in the maxilla. No thrill or pulse can be elicited from the MNTI. Although the lesion expands rapidly, the overlying mucosa usually remains intact.
What would you like to print?