Presentation
History
Because the lesions of oral melanoacanthoma are not painful, medical practitioners usually discover them on routine oral examination.
Physical Examination
The clinical features of oral melanoacanthoma may mimic those of other pigmented lesions. For example, the clinical and histologic features of oral melanoacanthoma lesions can resemble those of melanoma in situ.
Cutaneous lesions
Cutaneous lesions are reported in the scalp, eyelid, ear, nose, neck, thorax, and abdomen.
Cutaneous lesions may be found on any area of the head and neck, as well as on the chest, abdomen, back, or legs.
The lesions are generally asymptomatic, flat or slightly raised, hyperpigmented areas.
The color of the lesions ranges from brown to black to blue.
Lesions are usually isolated, with no apparent precipitating factors.
Lesions are slow growing and usually are present for months before treatment is sought.
Mucosal lesions
Mucosal lesions can occur in the buccal mucosa, labial mucosa, palate, gingiva (see image below), [15] alveolar ridge, or lip. [16, 17]
Although the appearance of mucosal lesions is similar to that of cutaneous lesions, mucosal lesions have a more rapid onset and rate of growth. [18]
Mucosal lesions occur mostly on the lip, [19] buccal mucosa, [20] or palate, [21] and they are precipitated by a traumatic event.
The diameter of the mucosal lesions can range from a few millimeters to several centimeters.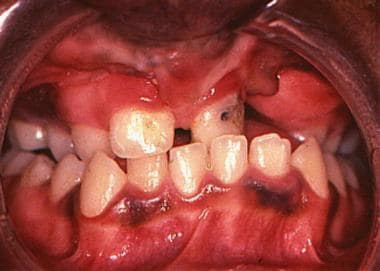 Intraoral melanoacanthoma lesion on the mandibular gingiva.
Complications
Comorbidities are an important consideration in not only etiologic diagnosis but treatment planning options and optimal clinical outcomes.
What would you like to print?