Workup
Approach Considerations
Consider the following in the diagnostic approach:
Clinical presentation with documentation of lesion presentation, growth rate, and parallel stimuli present

Comorbidities

Medications
Procedures
The clinical features of cutaneous and mucosal lesions may mimic those of other pigmented lesions; therefore, definitive diagnosis is based on histologic examination. Incisional or excisional biopsy may be performed based on the size and anatomic location of the lesion. Insulinlike growth factor 2 mRNA-binding protein-3 has been suggested to help histologically differentiate keratoacanthoma from squamous cell carcinoma. [23]
Histologic Findings
Microscopic examination reveals a hyperplastic edematous stratified squamous epithelium with acanthosis and elongated widened rete ridges. [24] Increased melanin pigmentation is present in the basal layer (see image below). In addition, many proliferating dendritic melanocytes or clear cells extend upward into the prickle-cell layers (see images below).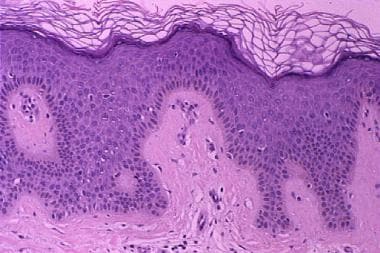 Increased melanin pigmentation in the basal layer of a melanoacanthoma (hematoxylin and eosin, original magnification X10).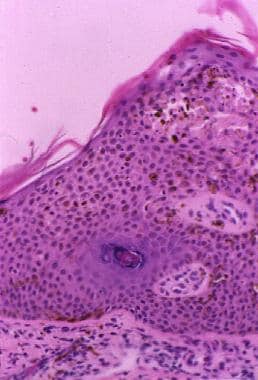 Proliferating dendritic melanocytes in the prickle-cell layers of a melanoacanthoma (hematoxylin and eosin, original magnification X40).
The clinical and histologic features of oral melanoacanthoma lesions can resemble those of melanoma in situ. [25] Usually, no evidence of cellular pleomorphism or abnormal mitotic activity is seen in oral melanoacanthoma, and this feature excludes malignancy.
In mucosal lesions, mixed chronic inflammatory cells and numerous melanin-laden macrophages densely infiltrate the stratum corneum. This inflammatory process may indicate the reactive rather than the neoplastic nature of the lesion. [26, 27]
What would you like to print?