Presentation
History
Whereas approximately 5% of all oral leukoplakias become malignant over 5 years, proliferative verrucous leukoplakia (PVL) is a slow-growing, progressive, often multifocal condition of the oral mucosa that inevitably eventuates in squamous cell or verrucous carcinoma, often with multiple primaries and recurrences. [17, 18] Malignant transformation tends to occur over an extended follow-up period. Unlike other types of leukoplakia, which tend to develop in men younger than 40 years, proliferative verrucous leukoplakia has a predilection for women older than their fifth decade of life. Only 30% of patients with proliferative verrucous leukoplakia report a history of smoking, whereas the smoking incidence is much higher in the population of patients affected by conventional leukoplakia. [19]
Lesions of proliferative verrucous leukoplakia may manifest as a solitary asymptomatic or rough irregular white patch or plaque that recurs and slowly expands. Over time, multiple similar lesions occur and progress into warty masses. In advanced cases, the affected tissue may become deeply folded and infiltrate bone, forming pseudocysts that may be mistaken for odontogenic cysts. [20] Only 15% of patients report discomfort.
While conventional oral squamous cell carcinomas tend to occur on the vermillion lower lip, tongue, or floor of the mouth, lesions on the palate and gingiva are at higher risk for cancer formation in proliferative verrucous leukoplakia patients. [12, 21, 22] The tongue and buccal mucosa, however, have also been reported as a common site for malignancy in proliferative verrucous leukoplakia patients. Verrucous carcinomas, on the other hand, occur most frequently on the buccal mucosa, alveolar ridge, or gingiva.
Physical Examination
Proliferative verrucous leukoplakia (PVL) lesions commonly occur on the buccal mucosa, gingiva, tongue, floor of the mouth, and palate. Examination early in the disease process may reveal isolated areas of leukokeratosis, sometimes with adjacent erythematous mucosa, as demonstrated in the image below. Individual lesions may progress from keratotic plaques to erosions, ulcerations, exophytic warty nodules, and plaques to clinical squamous or verrucous carcinoma.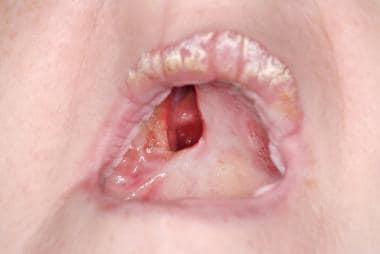 A leukokeratotic plaque is seen in on the upper lip, along with an erythematous plaque on the left hard palate. The patient has a large right-palate defect from a prior surgical excision of a squamous cell carcinoma.
While women are most commonly affected on the buccal mucosa, the preponderance of men have lesions on the tongue. One patient has been reported with cutaneous extension of proliferative verrucous leukoplakia, with a well-demarcated, crusted plaque on the skin of the lower lip contiguous with the vermillion and mandibular vestibule. [23]
What would you like to print?