Presentation
History
The appearance of erythema gyratum repens often precedes the detection of malignancy. The skin eruption is present an average of 9 months prior to the diagnosis of malignancy, with a range of 1-72 months. In a minority of patients, erythema gyratum repens occurred simultaneously with, or up to 9 months after, the detection of the neoplasm.
Cases of pityriasis rubra pilaris have been noted to transform to an eruption of erythema gyratum repens upon resolution of the primary disease, without any evidence of internal malignancy. [15, 21, 22, 23]
Physical Examination
Erythema gyratum repens has distinctive dermatologic manifestations characterized by the following [24] :
Wood-grain appearance created by concentric mildly scaling bands of flat-to-raised erythema

Fairly rapid migration (up to 1 cm/d)

A course of rash that closely mirrors the course of the underlying illness, with clearance of rash and relief of pruritus within 6 weeks subsequent to resolution of underlying illness

Sites of predilection that include the trunk and extremities
See the image below.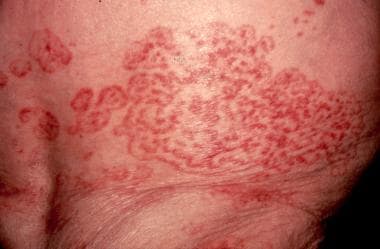 Erythema gyratum repens. Courtesy of Jeffrey P. Callen, MD.
Associated findings with erythema gyratum repens include ichthyosis and palmoplantar hyperkeratosis.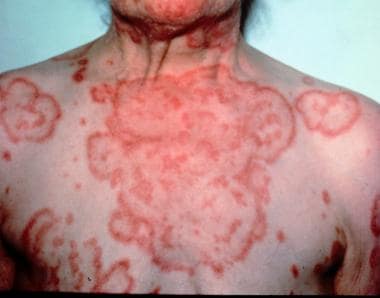 Erythema gyratum repens. The characteristic wood-grain pattern is composed of annular, erythematous concentric bands lined by a trailing edge of scale.
What would you like to print?