Presentation
History
The eruptive phase of erythema nodosum begins with flulike symptoms of fever and generalized aching. Arthralgia may occur and precedes the eruption or appears during the eruptive phase. Most lesions in infection-induced erythema nodosum heal within 7 weeks, but active disease may last up to 18 weeks. In contrast, 30% of idiopathic erythema nodosum cases may last more than 6 months. Febrile illness with dermatologic findings includes abrupt onset of illness with initial fever, followed by a painful rash within 1-2 days.
Physical Examination
Pertinent physical findings are limited to the skin and joints.
Primary skin lesions
Lesions begin as red tender nodules (see the image below). Lesion borders are poorly defined, and lesions vary from 2-6 cm. During the first week, lesions become tense, hard, and painful; during the second week, they may become fluctuant, as in an abscess, but do not suppurate or ulcerate. Individual lesions last approximately 2 weeks, but occasionally, new lesions continue to appear for 3-6 weeks. Aching legs and swelling ankles may persist for weeks.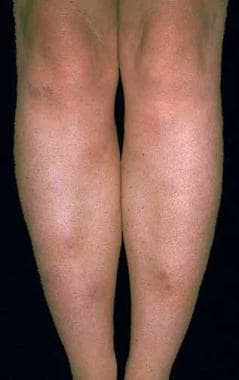 Classic presentation of erythema nodosum with nodular red swellings over the shins.
Distribution of skin lesions
Characteristically, lesions appear on the anterior leg; however, they may appear on any surface.
Color of skin lesions
Lesions change color in the second week from bright red to bluish or livid. As absorption progresses, the color gradually fades to a yellowish hue, resembling a bruise. This disappears in 1 or 2 weeks as the overlying skin desquamates.
Hilar lymph nodes
Hilar adenopathy may develop as part of the hypersensitivity reaction of erythema nodosum. Bilateral hilar lymphadenopathy is associated with sarcoidosis, while unilateral changes may occur with infections and malignancy.
Joints
Arthralgia occurs in more than 50% of patients and begins during the eruptive phase or precedes the eruption by 2-4 weeks. Erythema, swelling, and tenderness occur over the joint, sometimes with effusions. Joint tenderness and morning stiffness may occur. Any joint may be involved, but the ankles, knees, and wrist are affected most commonly. Synovitis resolves within a few weeks, but joint pain and stiffness may last up to 6 months. No destructive joint changes occur. Synovial fluid is acellular, and the rheumatoid factor is negative.
What would you like to print?