Presentation
Physical Examination
Clinical findings in eosinophilic granulomatosis with polyangiitis (EGPA) vary depending on the phase and organ systems involved. [2, 6, 18]
Allergic (prodromal) phase findings are as follows:
Upper respiratory tract symptoms affect majority of patients

Recurrent or chronic sinusitis
Eosinophilic (second) phase findings are as follows:
General - Weight loss, fever, sweats

Pulmonary - Cough, hemoptysis, rales, rhonchi

Gastrointestinal - Rebound, masses, obstruction, ascites, bleeding
Vasculitic (third) phase findings are as follows:
Most commonly affects skin and peripheral nervous system

[19]

Constitutional symptoms - Fever, weight loss, adenopathy

Cardiac - Gallop, pericardial friction rub, jugular venous distension, peripheral edema

Pulmonary - Rales, rhonchi

Renal - Mild proteinuria and hematuria (more common in those with serologically detectable ANCA)

Genitourinary - Obstructive uropathy

Ocular - Episcleritis, panuveitis, marginal corneal ulceration, conjunctival infiltration, retinal infarction

Musculoskeletal - Joint swelling, muscle tenderness

Cutaneous - Palpable purpura (50%), subcutaneous nodules (scalp and extensor surfaces on extremities), firm papules on fingertips (may resemble septic emboli), urticaria, livedo reticularis
See the images below.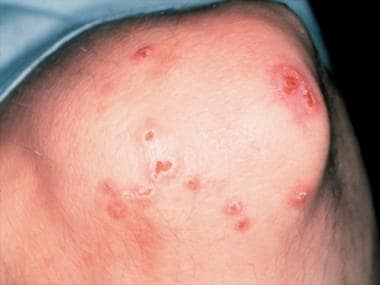 Magnified view of papules and nodules with central necrosis.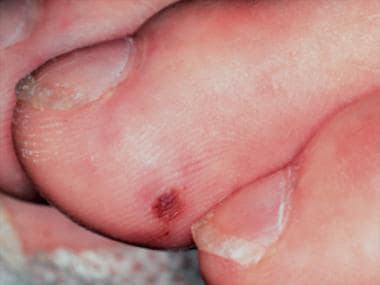 Distal digital purpuric papule.
A representative case of EGPA was reported by Venade et al. A 37-year-old man presented with fever, productive cough, occasional dyspnea, anorexia, and lethargy. The patient was discovered to have leukocytosis and eosinophilia, and he was also determined to be in acute renal failure. Treatment was 3 boluses of methylprednisolone 1 g and commencement of cyclophosphamide therapy with resolution of symptoms and restoration of renal function. [22]
What would you like to print?