Workup
Approach Considerations
Eosinophilic granulomatosis with polyangiitis (EGPA) is a clinical diagnosis. When present, antineutrophil cytoplasmic antibodies (ANCA) are a major diagnostic finding, but they can be absent. Eosinophilia and histologic vasculitis can also support the diagnosis. Skin, nerve, and muscle biopsy sites yield the highest sensitivities. Several diagnostic criteria have been proposed, including the Lanham, American College of Rheumatology (ACR), and Chapel Hill criteria. [1]
Lanham criteria are as follows:
Asthma

Blood eosinophilia exceeding 1,500/µL

Evidence of vasculitis in two or more organs
ACR criteria are as follows (4 of 6 should be present):
Asthma

Eosinophilia

History of allergy

Pulmonary infiltrates, non-fixed

Paranasal sinus abnormalities

Extravascular eosinophils
Laboratory Studies
The following laboratory studies are warranted in eosinophilic granulomatosis with polyangiitis (EGPA):
CBC count with erythrocyte sedimentation rate (ESR): Eosinophilia greater than 10% is a diagnostic criterion of the ACR. Treatment with steroids may mask this finding. Anemia, leukocytosis, thrombocytosis, and an elevated ESR usually accompany the vasculitic phase of EGPA.

Rheumatoid factor (RF) and antinuclear antibody (ANA) testing: Some patients may have weakly positive ANA and/or RF results.

Antineutrophilic cytoplasmic antibodies (ANCA) testing: Perinuclear ANCA directed predominantly against a myeloperoxidase have been reported in 40-80% of patients with EGPA; however, one study showed that only 13% had positive perinuclear ANCA findings. Because of the low sensitivity of this test, a negative ANCA result does not rule out EGPA. Renal involvement and peripheral neuropathy seem to be increased in ANCA-positive individuals. ANCA is suspected to cause damage to the vascular endothelium, while in ANCA-negative individuals inflammatory mediators and cationic proteins from eosinophils are believed to cause tissue damage. Classic ANCA directed against serine proteinase 3 is positive in approximately 10% of patients with EGPA. High titers of classic ANCA are seen more often with granulomatosis with polyangiitis (Wegener granulomatosis) than with EGPA.

Systemic vasculitis testing: Screened patients suspected to have systemic vasculitis for cryoglobulins, antiphospholipid antibodies, immunoglobulins (immunoglobulins G, A, E, and M), complement levels (CH50, C3, and C4). Immunoglobulin E levels are usually elevated in persons with EGPA.

Liver function testing: Serum aspartate aminotransferase and serum alanine aminotransferase levels may indicate liver or muscle involvement. Hepatitis B and C virus serologies are recommended for suspected cases of systemic vasculitis.

Creatine phosphokinase testing: Creatine phosphokinase levels may indicate muscle or cardiac involvement.

Gastrointestinal testing: Stool guaiac screening can be performed to test for bleeding.

BUN and creatinine measurements: Kidney involvement in the form of focal segmental glomerulonephritis may occur, but it is typically mild. Severe kidney involvement is more common in the other systemic vasculitides, such as granulomatosis with polyangiitis (Wegener granulomatosis) and polyarteritis nodosa, than in EGPA.
Imaging Studies
Imaging studies that can be performed in eosinophilic granulomatosis with polyangiitis (EGPA) are as follows:
Chest radiography: Findings may be abnormal in both the eosinophilic stage and the vasculitic phase. Radiographs typically reveal transient patchy alveolar opacities, nodular infiltrates, or a diffuse interstitial pattern. Bilateral hilar adenopathy has also been reported. [11]

Sinus radiography: Opacification of the paranasal sinuses is an ACR diagnostic criterion.

ECG, echocardiography, and cardiac MRI: Cardiac involvement is common in EGPA and may affect the pericardium, myocardium, and endocardium. Pericardial effusion, cardiomyopathy, cardiac valve abnormalities, coronary vasculitis, and granulomatous myocarditis have all been described. [5]

MRI: CNS involvement is found 25% of time of EGPA cases with neurologic involvement, and, in some case series it accounts for the second most common cause of mortality in this disease. [6]
Other Tests
Any additional testing should be based on clinical history and patient symptoms.
Procedures
Due to ease of access, the skin, followed by the kidney, are the most frequently selected sites for biopsy. Skin biopsy specimens should be taken from a lesion that has arisen within the last 48 hours. Biopsy specimens for direct immunofluorescence examination should also be obtained from a lesion that has arisen within the last 48 hours.
Histologic Findings
Biopsy may reveal a variety of histologic changes, including necrotizing vasculitis of small-to-medium vessels, eosinophilic infiltration, and extravascular granulomas. Nodular lesions frequently reveal characteristic extravascular granulomas. These granulomas are not pathognomic for eosinophilic granulomatosis with polyangiitis (EGPA) because they are also found in persons with granulomatosis with polyangiitis (Wegener granulomatosis), polyarteritis nodosa, systemic lupus erythematosus, rheumatoid arthritis, lymphoproliferative disorders, and other immunoreactive disorders. Granulomas are composed of a central core of necrotic eosinophilic debris with degeneration of collagen and surrounded by a peripheral palisade of epithelioid histiocytes with few, if any, giant cells. The non-nodular lesions most often demonstrate a vasculitis or a nonspecific perivascular infiltrate of eosinophils and mononuclear cells without vasculitis. [14]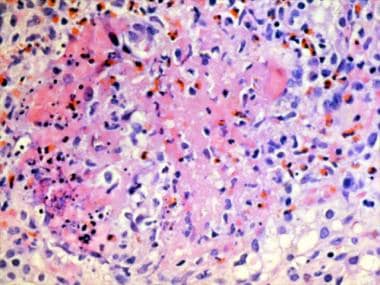 Granuloma with a central core of eosinophilic debris surrounded by a peripheral palisade of epithelioid histiocytes and eosinophils.
What would you like to print?