Workup
Laboratory Studies
Electron microscopy is not routinely necessary for erythema elevatum diutinum (EED) but should show changes consistent with leukocytoclastic vasculitis.
Direct immunofluorescence study results show changes consistent with vasculitis, including deposits of complement, immunoglobulins (IgG, IgA, IgM), and fibrin intravascularly and perivascularly.
Immunoelectrophoresis (IEP) can be used to identify possible gammopathies. Yiannias et al advocate routine IEP testing for patients with erythema elevatum diutinum. The use of this technique is supported by the growing number of studies showing that monoclonal gammopathies might play a causal role in erythema elevatum diutinum.
A positive reaction to skin testing with streptokinase and streptodornase at 4 and 24 hours has been reported to help determine a causative association with bacterial infection.
The erythrocyte sedimentation rate in patients with erythema elevatum diutinum is often elevated.
Antineutrophil cytoplasmic antibodies of IgA class may become a helpful paraclinical marker of disease. [21]
Procedures
A skin biopsy is the most useful study for the diagnosis of erythema elevatum diutinum. The histologic findings are discussed below.
Histologic Findings
Erythema elevatum diutinum (EED) is a type of necrotizing vasculitis. No specific histologic finding can be used to differentiate erythema elevatum diutinum from other leukocytoclastic diseases. However, the simultaneous presence of several histologic findings can help distinguish erythema elevatum diutinum from other diseases.
Early lesions show vasculitis in the small vessels of the upper and mid dermis. Furthermore, a perivascular infiltrate consisting of mainly polymorphonuclear neutrophils; nuclear dust; and, to a lesser extent, macrophages, lymphocytes, and eosinophils is present throughout the dermis. The infiltrate may accumulate between collagen bundles. In addition, fibrinoid degeneration, first described as toxic hyaline deposits by Weidman and Besancon, [22] can be detected perivascularly. The epidermis can be affected by the changes in the dermis; edema, acanthosis, and even necrosis can be observed. See image below.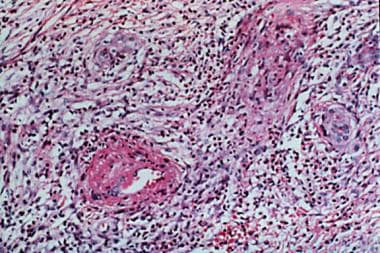 Fibrinoid changes in dermal blood vessels with polymorphonuclear neutrophil infiltration.
Granulation tissue and fibrosis in the dermis characterize older lesions. Toxic hyaline is less apparent, but extracellular cholesterol deposits may be observed in the fibrotic tissue. [23] This was termed extracellular cholesterosis (EC) and was thought at first to have a different etiology than erythema elevatum diutinum. Today, EC is known to be a manifestation of erythema elevatum diutinum. Furthermore, the use of the term extracellular cholesterosis tends to be limited since it is now believed that the main lipid deposits are intracellular and that they are formed of cholesterol esters produced by damaged tissue.
What would you like to print?