Presentation
History
A typical presentation of erythema induratum (nodular vasculitis) is recurrent crops of tender, violaceous nodules and plaques on the posterior lower limbs. The nodules usually evolve over several weeks and can eventually ulcerate and drain, ultimately healing with depressed scarring and postinflammatory hyperpigmentation. Leg edema also may be present. [31]
A past or present history of infection with M tuberculosis at an extracutaneous site occurs in about 50% of patients; pulmonary tuberculosis (TB) is the most common foci of infection, with tuberculous cervical lymphadenitis being the next most common source. Erythema induratum and renal TB can also be associated. [32] In a patient who presents with TB and nodular vasculitis, it is important to rule out HIV infection, as a variant of erythema induratum, nodular tuberculid, which features granulomatous vasculitis occurring at the dermohypodermal junction, has been noted in five patients with HIV disease. [33, 34]
Although nodular vasculitis is classically associated with M tuberculosis infection, it also can occur due to infection with other agents, as well as from drugs. Non-TB infectious causes of erythema induratum include Nocardia, Pseudomonas, and Fusarium infections. Erythema induratum has also been reported in the setting of etanercept use in a patient with psoriasis. [21] A case of erythema induratum was reported in an infant after BCG vaccination. [35]
Nodular vasculitis also can present in the setting of noninfectious systemic illness. Nodular vasculitis has been reported in Crohn disease patients and the setting of renal cell carcinoma. [11, 36] Painful peripheral neuropathy has also been associated with erythema induratum, with some reports of peripheral neuropathy being a presenting symptom of erythema induratum. [37, 38] Addison disease that occurred during treatment for erythema induratum has been noted, and the authors of this report suggest that TB might have been the cause of the Addison disease. [9]
Physical Examination
Erythema induratum lesions typically occur on the posterior or lateral lower limbs and may be either unilateral or bilateral, although the shins can sometimes be involved. Uncommonly, the trunk, buttocks, thighs, and arms can be involved; disseminated erythema induratum has also been reported. [39] The nodules are concentrated around the lower third of the posterior lower limb, around the ankles. Crops of tender, erythematous-to-violaceous, variably scaly, 1- to 2-cm subcutaneous nodules may be observed, as demonstrated in the image below. The lesions resolve spontaneously with or without ulceration over several weeks/months, and they can heal with atrophic scarring and hyperpigmentation. Tenderness is usually present, but pain is variable and usually not excruciating, if present. The involved lower-limb sites may also show acrocyanosis. [2] Patients with erythema induratum do not usually present with constitutional symptoms, except those related to their underlying disease. Peripheral neuropathy has also been reported in conjunction with erythema induratum. [37, 38]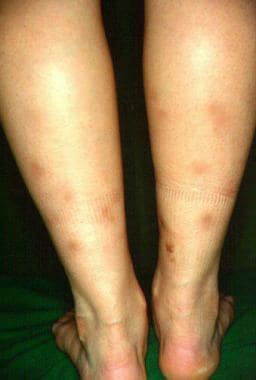 This patient exhibited tender, erythematous nodules confined to the lower third of the legs.
Complications
The clinical course of erythema induratum is chronic, recurrent, and scarring, and, inadequately treated or untreated erythema induratum may result in prolonged disease, persistent and disfiguring ulcerations and scarring, and complications from underlying systemic TB or other infectious disease. [3]
What would you like to print?