Workup
Approach Considerations
The diagnosis of erythema induratum (nodular vasculitis) is made based on a combination of clinical signs and skin biopsy findings, in conjunction with negative test results for lesional infection.
To evaluate for underlying disease, all patients suspected to have erythema induratum should be tested for underlying disease, especially for tuberculosis (TB), by a tuberculin skin test or interferon-gamma release assay (IGRA), review of systems, and a chest radiograph. [36]
Laboratory Studies
Patients with suspected erythema induratum should be evaluated for underlying disease, especially TB. Laboratory studies include a tuberculin skin test or, preferably, an IGRA. [36]
Other reasonable laboratory testing to investigate for underlying disease in a patient suspected to have erythema induratum includes the following:
Complete blood cell count with differential

Erythrocyte sedimentation rate

Liver function tests

Hepatitis C virus serology

[15]
Detection of M tuberculosis DNA from formalin-fixed tissue samples from erythema induratum lesions by means of polymerase chain reaction (PCR) testing supports the association of erythema induratum with TB; however, diagnostic sensitivity is variable and is influenced by technical factors. [41, 42, 43] For example, in a retrospective study from the United States, PCR testing of biopsy specimens of erythema induratum for TB was only positive in 5 (25%) of 20 patients, with positive tuberculin skin tests and characteristic lesions that were responsive to anti-TB therapy. [43]
IGRAs are whole blood tests that can aid in diagnosing infection with M tuberculosis. [44] Two IGRAs that the US Food and Drug Administration (FDA) has approved and are commercially available in the United States are the QuantiFERON-TB Gold In-Tube test (QFT-GIT) and the T-SPOT.TB test (T-Spot). The QuantiFERON-TB test can confirm the presence of latent TB in association with erythema induratum. [45] The utility of this test is exemplified in a patient with tender ulcerating nodules of the lower extremity, a normal chest radiograph, and a biopsy without acid-fast bacilli, but whose QuantiFERON-TB test was positive, leading to the diagnosis of erythema induratum. [46] IGRAs also have the advantage of avoiding uncomfortable exaggerated hypersensitivities to intradermal purified protein derivative (PPD) testing when screening for M tuberculosis infection in erythema induratum patients. [31]
Imaging Studies
In patients suspected of having erythema induratum, a chest radiograph should be acquired to rule out active or latent pulmonary TB.
Other Tests
PCR provides rapid and sensitive detection of M tuberculosis in formalin-fixed, paraffin-embedded specimens. PCR can be used to differentiate nodular vasculitis from erythema induratum (Bazin disease).
Procedures
Some patients are highly sensitive to tuberculin PPD. Patients should be tested with a 1:10,000 dilution Mantoux test, as demonstrated in the image below.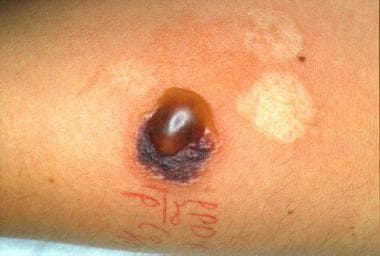 A positive Mantoux test reaction in a patient with erythema induratum.
A biopsy is required to confirm the diagnosis of erythema induratum. An incisional biopsy or a full-thickness punch biopsy from the lesional skin is preferred to a small or superficial punch biopsy, as small and superficial biopsies are more likely to be nondiagnostic or misinterpreted. Special stains for bacteria, fungi, and mycobacteria are obtained; lesional histochemical stains and lesional cultures are, by definition, negative for pathogens in erythema induratum.
Histologic Findings
The primary pathologic changes in erythema induratum occur in the subcutaneous fat, showing predominantly lobular panniculitis with fat necrosis. There is a mixed inflammatory infiltrate of lymphocytes, plasma cells, histiocytes forming granulomas, neutrophils, and eosinophils. In two thirds of cases, granulomatous, noncaseating inflammation is present. A granulomatous vasculitis of the medium-sized arterioles in the fat can be seen and is the apparent cause of the fat necrosis, although examination of multiple sections may be required to observe this. [2] Stains and cultures for bacteria, mycobacteria, and fungi are negative.
See the images below.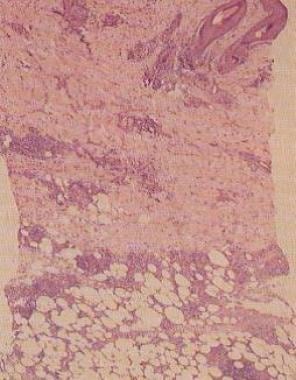 Vasculitis and granulomatous inflammation in the dermis and subcutaneous fat tissues.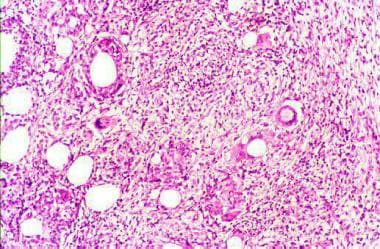 Evidence of panniculitis exhibiting lobular, granulomatous, and lymphohistiocytic inflammation.
The histologic features are not specific and can vary depending on the age of the lesion undergoing biopsy and the overlap with other forms of panniculitis. Vasculitis is not always identified and is not a requisite for the diagnosis. The presence of both septal granulomatous inflammation and lobular granulomatous inflammation is, nonetheless, characteristic for erythema induratum and contrasts with erythema nodosum (primarily septal inflammation) and polyarteritis nodosum (medium-vessel vasculitis with minimal lobular inflammation).
In a study of 101 cases of erythema induratum, it was found that erythema induratum has a variety of presentations of vasculitis and that in approximately 10% of cases clinicopathologic patterns of vasculitis could not be demonstrated in erythema induratum specimens. [8]
What would you like to print?