Overview
Background
Granuloma faciale (GF) is an uncommon benign chronic skin disease of unknown origin characterized by single or multiple cutaneous nodules, usually occurring over the face. See the images below.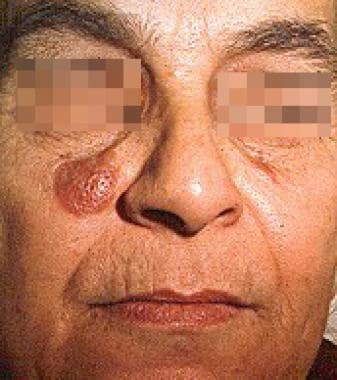 Solitary, well-demarcated, brown-red plaque associated with granuloma faciale.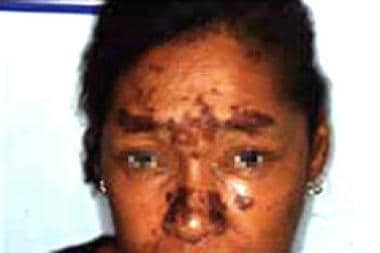 Multiple brown-red plaques on the face associated with granuloma faciale.
Occasionally, extrafacial involvement is noted, [1, 2, 3, 4] most often on sun-exposed areas. Lever and Leeper first recognized granuloma faciale as a distinct entity in 1950. Pinkus' group suggested the name granuloma faciale that same year. The disease mimics many other dermatoses and can be confused with conditions, such as sarcoidosis, discoid lupus erythematosus, mycosis fungoides, and fixed drug eruption. See Sarcoidosis, Discoid Lupus Erythematosus, Mycosis Fungoides, and Fixed Drug Eruptions for more information on these topics.
Pathophysiology
The skin is the primary organ system that is affected. Reports of granuloma faciale–like lesions of the oral mucosa are rare. [5] Eosinophilic angiocentric fibrosis may be viewed as its mucosal counterpart. [6] Innate and adaptive immunity seem to be factors in the pathogenesis of granuloma faciale. [7]
Etiology
Some cases are idiopathic.
Production of interleukin 5 by the clonal T-cell population may cause the attraction of eosinophils to the lesions. [8]
A gamma interferon–mediated process has been suggested. [9]
Sun exposure may play a role. Sunlight-exposed areas are more commonly affected than non–sun-exposed areas. Lesions may darken with sunlight exposure.
Epidemiology
Frequency
Cases of granuloma faciale are rare.
Race
Granuloma faciale is found most commonly in whites; however, it has been reported rarely in Japanese and blacks.
Sex
Men are affected more frequently than women.
Age
Granuloma faciale is primarily a disease of middle age (median age, 45 y).
Prognosis
No systemic involvement has been reported with granuloma faciale. The disease is benign except for its appearance. Granuloma faciale may persist indefinitely if untreated; spontaneous resolution rarely occurs. Granuloma faciale has a tendency to relapse after treatment.
Patient Education
Inform the patient about scarring and the recurrence of the condition if an ablative procedure is performed. Inform the patient about the adverse effects of medications and the need for follow-up care while taking these medications for this recalcitrant disorder.
What would you like to print?