Presentation
History
Cutaneous lesions of hypersensitivity vasculitis are often asymptomatic, although patients may report itching, burning, or pain. Vasculitis may occur as a cutaneous eruption only or in conjunction with collagen-vascular disorders, paraproteinemia, ingestants (drugs or foods), infections, or malignancy. [17, 18, 19, 20]
The clinician should perform a complete review of systems to elicit possible systemic manifestations, inquiring about symptoms such as fever, arthralgia, arthritis, myalgia, abdominal pain, diarrhea, hematochezia, cough, hemoptysis, sinusitis, paresthesia, weakness, and hematuria. Emphasis should be placed on organs known to be involved in hypersensitivity vasculitis such as the kidneys, gastrointestinal tract, lungs, and nervous system. In addition, the clinician should determine whether the patient has started any new medications or has changed the dosage of any existing medications. The clinician should also inquire about intravenous drug use, hepatitis, transfusion, homeopathic remedies and travel history. An underlying diagnosis such as inflammatory bowel disease or collagen-vascular disease, particularly rheumatoid arthritis, lupus erythematosus, or Sjögren syndrome, should also be considered.
Physical Examination
Palpable purpura is the most common manifestation of cutaneous vasculitis, but other manifestations may occur, as described below and shown in the images that follow. [21]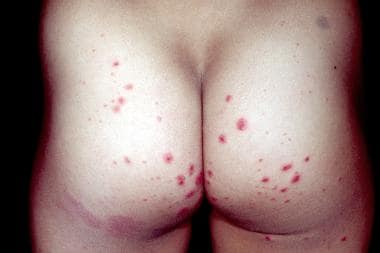 Henoch-Schönlein purpura.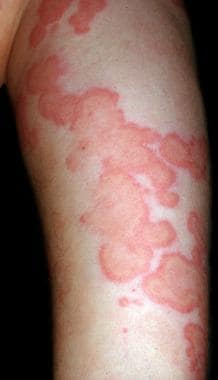 Urticarial vasculitis. These lesions differ from routine hives by lasting longer (often >24 h), being less pruritic, and often resolving with a bruise or residual pigmentation.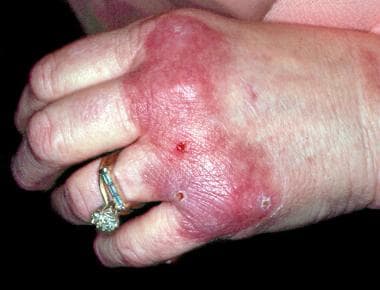 Erythema elevatum diutinum, a rare cutaneous vasculitis.
Cutaneous manifestations tend to occur 7-10 days upon exposure to an inciting agent. Palpable purpura is the most frequent presentation of small-vessel vasculitis. Lesions are usually round, 1-3 mm in diameter, and may coalesce to form plaques. Purpuric lesions are sometimes barely palpable. Palpable purpura favor dependent areas and therefore are most frequently observed on the legs. However, any surface can be involved, particularly areas affected by trauma (Koebner phenomenon) or areas under tight-fitted clothing.
Retiform lesions have been associated with immunoglobulin A (IgA)–related immune complex disease in one study; however, this result has not been validated in subsequent studies. [22]
Urticarial lesions may occur in some patients, which can occasionally predate purpuric lesions. Urticarial lesions in hypersensitivity vasculitis are of a different character than routine urticaria. They tend to be of longer duration (often >24 h) with less predilection for dependent areas and are more likely to resolve with residual pigmentation or ecchymosis. Patients often report tenderness and burning in addition to pruritus. To determine the duration of individual lesions, the clinician can encircle several individual lesions and ask the patient to observe them periodically and note when the lesions resolve or change shape and when a new lesion forms outside the encircled area.
A 2014 retrospective study of 766 patients with cutaneous vasculitis found that 21 patients had urticarial vasculitis (2.7%). Among the cases of urticarial vasculitis, potential precipitating factors included upper respiratory tract infections and penicillin in 4 patients (all younger than 20 y), HIV in 1 patient, and malignancy in 1 patient. Two patients demonstrated hypocomplementemia. [23]
Patients with hypocomplementemic urticarial vasculitis (HUV) syndrome are more likely to have associated systemic lupus erythematosus and multiorgan involvement [24] ; thus, patients may develop chronic obstructive pulmonary disease, uveitis or episcleritis, glomerulonephritis, recurrent abdominal pain, and, rarely, cardiac and central nervous involvement, requiring a thorough physical examination. [25, 26]
Livedo reticularis or racemosa are rare manifestations of small-vessel vasculitis. These clinical findings are more frequent in patients with occlusive or inflammatory disease of medium-sized vessels.
Nodular lesions are suggestive of systemic involvement and are more common in medium-vessel vasculitis, but they can rarely occur in patients with small-vessel vasculitis.
Ulceration is also more common in medium- and large-vessel vasculitis, but it may complicate intense purpura or bullous lesions associated with small-vessel vasculitis.
Perform a careful physical examination in patients with hypersensitivity vasculitis, including specific observation of cardiopulmonary, musculoskeletal, nervous, and gastrointestinal systems.
Complications
Vasculitis may be complicated by ulceration of skin or by end-organ dysfunction.
What would you like to print?