Overview
Background
Nevus anemicus is a congenital vascular anomaly that presents clinically as a hypopigmented macule or patch, as shown below. The lesional pallor is due to a localized hypersensitivity to catecholamines with resultant vasoconstriction. Nevus anemicus is an uncommon disorder and was first described by Vorner in 1906.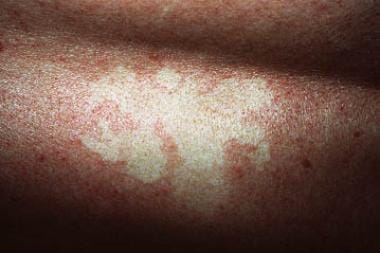 Irregularly shaped, well-demarcated, asymptomatic hypopigmented patch of nevus anemicus on the lateral leg.
Pathophysiology
Intralesional injection of bradykinin, acetylcholine, serotonin, nicotine, 5-hydroxytryptamine, and histamine fails to induce the anticipated vasodilatation or erythema in the affected area. However, erythema does follow an axillary sympathetic block of the involved limb or intradermal injection of the alpha-adrenergic blocking agent, pilocarpine. These findings suggest that nevus anemicus is best termed a pharmacologic nevus resulting from increased vascular sensitivity to catecholamines. [1] This conclusion is further supported by autograft exchange transplantation studies that show donor site dominance. It also has been proposed that an abnormality in endothelial adhesion molecule induction (E selectin expression) may be involved, suggesting several pharmacologic anomalies are involved and further supporting the idea that nevus anemicus may best be termed a pharmacologic nevus.
Etiology
Nevus anemicus is due to a congenital anomaly of the cutaneous vasculature resulting in hypersensitivity to catecholamines, leading to localized vasoconstriction.
Epidemiology
Frequency
The prevalence of nevus anemicus in several research control groups was documented at 1-2%. [2]
Race
No racial predilection has been noted in the literature for nevus anemicus.
Sex
Early literature reports nevus anemicus occurring more frequently in females. Review of the literature of nevus anemicus occurring in the setting of neurofibromatosis type 1 describes equal frequency in females and males. [3]
Age
Nevus anemicus may be present at birth or first appreciated in early childhood.
Prognosis
The prognosis of nevus anemicus is excellent. Lesions of nevus anemicus usually persist unchanged throughout life. They are asymptomatic. However, nevus anemicus presenting in a child with multiple café-au-lait macules should raise concern for neurofibromatosis type 1. Two prospective studies document about a 50% prevalence of nevus anemicus in neurofibromatosis type 1. [3, 2]
What would you like to print?