Workup
Imaging Studies
Imaging studies should be performed if Sturge-Weber syndrome is suspected. MRI with gadolinium enhancement is the optimal diagnostic imaging technique for the screening of Sturge-Weber syndrome.
CT scan or MRI findings may be absent during the first few years, unless intravenous contrast is administered. However, even if intravenous contrast is used, some milder lesions may still not be detected. Positive findings include gyral enhancement, enlargement and enhancement of the ipsilateral choroid plexus, progressive cortical atrophy, and gyral calcification. Accelerated myelination in the involved hemisphere also may be an early diagnostic feature before age 6 months in some infants.
Cerebral angiography can detect parenchymal contrast stasis and abnormal cortical veins.
Debate continues regarding the need for and type of diagnostic imaging for patients who present with an isolated capillary malformation. Some authorities believe that in low-risk lesions such as an isolated capillary malformation, either no imaging or ultrasonography (age < 5 mo) is reasonable. Imaging studies should be performed in all patients who have a capillary malformation and another lumbosacral cutaneous anomaly, because the risk is much higher. Some authors recommend MRI for all children who present with an isolated lumbar capillary malformation.
Other Tests
An ophthalmologic evaluation with tonometry to exclude glaucoma in infants with CN V1 and CN V2 or eyelid involvement should be performed semiannually for the first 3 years of life and annually thereafter.
Histologic Findings
Histologically, the abnormal features are difficult to appreciate in tissue samples obtained from children younger than 10 years. With time, the affected vessels become progressively more ectatic and filled with erythrocytes. The ectasia appears to progress from the superficial dermis to the deeper dermis and subcutaneous tissues. The endothelial cells of a capillary malformation do not stain for GLUT-1, a specific marker for infantile hemangiomas.
See the image below.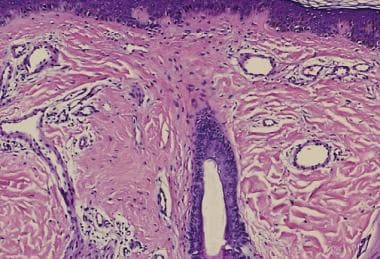 Histopathologic features of a capillary malformation (nevus flammeus) showing telangiectatic vessels lined by mature-appearing endothelial cells.
What would you like to print?