Workup
Laboratory Studies
A complete blood cell count is necessary to exclude thrombocytopenia, and coagulation screening helps to exclude other possible causes of purpura.
Imaging Studies
Dermoscopy has been reported to be a useful tool for assisting the clinical diagnosis of pigmented purpuric dermatoses. [18, 19]
Other Tests
Capillary fragility may be assessed by the Hess test.
Procedures
A skin biopsy helps to confirm the diagnosis of a pigmented purpuric eruption and aids in excluding cutaneous T-cell lymphoma, which in its early stages may closely mimic a pigmented purpuric dermatitis both clinically and histologically. [20]
Histologic Findings
Histologically, a perivascular infiltrate of lymphocytes and macrophages is centered on the superficial small blood vessels of the skin. Signs of endothelial cell swelling and narrowing of lumina may be seen, as demonstrated in the image below.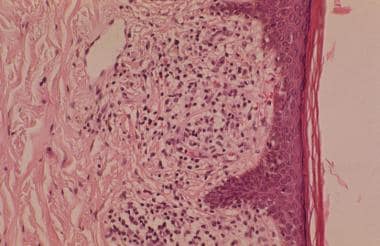 Endothelial cell swelling is a histologic feature of capillaritis. This biopsy sample was obtained from a patient with lichen aureus.
The infiltrate is composed of predominantly CD4+ lymphocytes along with occasional CD1a+ dendritic cells. Plasma cells and neutrophils are occasionally present; the latter is not uncommon in lesions of itching purpura. Extravasation of red blood cells with marked hemosiderin deposition in macrophages is typically seen, as demonstrated in the image below. However, the degree of hemosiderin deposition may be variable, and it can be minimal in early lesions of itching purpura. [21]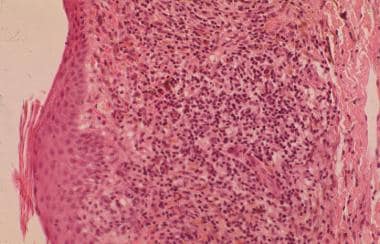 Hemosiderin deposition is seen in dermal macrophages in this biopsy sample obtained from a patient with lichen aureus.
Histochemical staining with Perls stain and Fontana-Masson stain, to demonstrate iron (hemosiderin) and exclude melanin pigment respectively, may be helpful. Hemosiderin deposition in the dermis is more superficial in pigmented purpuric dermatitis than that seen in stasis dermatitis, which is a useful differentiating feature. Mild epidermal spongiosis and exocytosis of lymphocytes may be seen in all variants except lichen aureus, which, in general, tends to show a bandlike infiltrate separated from the epidermis by a thin rim of uninvolved collagen.
Kerns et al described an unusual variant of pigmented purpuric dermatoses, granulomatous pigmented purpura, in a 42-year-old white woman, and Wong et al reported 2 cases of a similar variant. [22, 23]
What would you like to print?