Presentation
History
The common solitary pyogenic granuloma (lobular capillary hemangioma) grows rapidly to its maximum size over a period of a few weeks.
Patients with pyogenic granuloma may report a painless glistening red lesion that bleeds spontaneously or following irritation. A history of trauma, peripheral nerve injury, or rarely, an underlying systemic inflammatory disease may be elicited. [19]
The head, neck, digits, and upper trunk are affected most commonly.
Reports of lesions developing in a preexisting nevus flammeus or spider angioma exist, the former having been noted to occur during pregnancy. [20] Pyogenic granuloma has also been reported after pulsed-dye laser treatment of both cherry angiomas and port-wine stains. [21, 22]
Systemic retinoids may occasionally trigger pyogenic granuloma–like lesions. [23] These occurred more frequently just after the approval of isotretinoin. In current practice, a lower initial dose is used and this phenomenon is unusual. Reports have also described pyogenic granulomas occurring with the use of acitretin [24] and even topical retinoids. [25]
Antiretrovirals have been associated with the development of pyogenic granulomas, predominantly of the great toes. [26]
Periungal pyogenic granulomas occurring during epidermal growth factor receptor inhibitor therapy are a mounting problem for oncology patients, arising after 2 months of drug exposure. Nailfold paronychia and pyogenic granuloma changes occur in up to 24% of patients on panitumumab. [27]
Other antineoplastic agents associated with pyogenic granuloma development include the pyrimidine analog 5-fluorouracil, [28] its prodrug capecitabine, [29] mitoxantrone (an anthracenedione), [30] the taxanes docetaxel [31] and paclitaxel, [32] mTOR inhibitors, [33] vemurafenib, [34] blinatumomab, [35] and ramucirumab. [36]
In addition, pyogenic granulomas have occurred with the use of cyclosporine, [37] erythropoietin, [38, 39] levothyroxine, [40] anti-CD 20 monoclonal antibody therapy, [41] and following anti–tumor necrosis factor-alpha therapy. [42]
The pregnancy tumor variant most often occurs in the second or third trimester. Cases arising with the use of oral contraceptives and hormone replacement therapy have been reported. [43]
Rare multiple pyogenic granuloma lesions may be grouped or eruptive and disseminated in nature. [44] Congenital disseminated pyogenic granulomas have been reported. [45]
Eruptive disseminated pyogenic granulomas have developed following a drug hypersensitivity reaction [46] and after burn injuries, including lightning strike. [47]
Adolescents and young adults are more prone to develop multiple recurrent satellite lesions after prior attempts at removal, especially on the trunk.
Untreated pyogenic granulomas eventually atrophy, become fibromatous, and slowly regress.
Physical Examination
The typical solitary pyogenic granuloma (lobular capillary hemangioma) is a bright red, friable polypoid papule or nodule ranging from a few millimeters to several centimeters. The average size is 6.5 mm [13] , though a 25-cm giant pyogenic granuloma has been reported at the site of a scar in an HIV-positive patient. [48] The classic exophytic raspberrylike lesion has a moist surface and an epithelial collarette at the base. Bleeding, erosion, ulceration, purulence, and crusting frequently are noted. Regressing lesions appear as a soft fibroma.
The head and neck, trunk, and distal extremities (especially the fingers) are sites of predilection, but lesions occur anywhere on the integument, including the genitalia. Oral lesions are most common on the gingiva, lips, and tongue. [15]
Note the images below.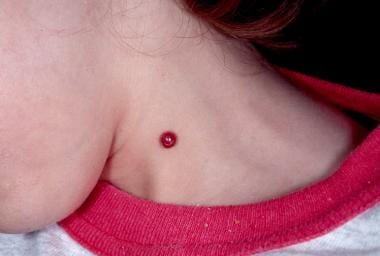 Pyogenic granuloma on the neck of the young girl. Courtesy of Jeffrey P. Callen, MD.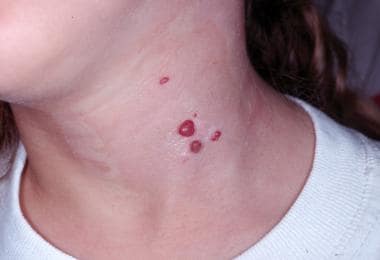 Multiple recurrent pyogenic granulomas on the neck of a young girl. Courtesy of Jeffrey P. Callen, MD.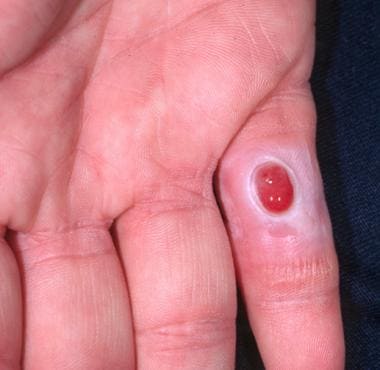 Pyogenic granuloma on the hand. Courtesy of Jeffrey P. Callen, MD.
The pregnancy tumor variant of pyogenic granuloma most frequently is found along the maxillary intraoral mucosal surface, but any intraoral, perioral, and nonoral tissue may be involved.
Pyogenic granuloma with satellitosis, [49] a subcutaneous subtype, [50] a linear presentation, [51] and a disseminated variant [44] have been described. The majority of satellites occur on the trunk, often around the scapula. The subcutaneous subtype of pyogenic granuloma is commonly found on the upper extremity.
A rare intravenous pyogenic granuloma variant [52] may present as a vascular polyp on the neck or upper extremities.
What would you like to print?