Presentation
Physical Examination
Patches of superficial, blanchable telangiectasias may be small to large and few to numerous. They are disposed predominantly in a unilateral linear distribution. (Note the image below.)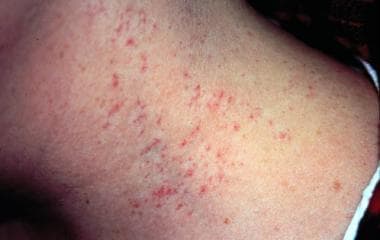 Unilateral nevoid telangiectasia on the neck.
The third and fourth cervical dermatomes are the most common sites, but the thoracic dermatomes and scattered distant sites may also be involved.
In one case in a 40-year-old woman presenting after pregnancy, superficial telangiectasias were present on the right upper extremity and cervical dermatome of the right chest unilaterally. On dermoscopy, the capillaries were found to be tortuous, ectatic, and thin. [5]
Villela-Segura observed reddened, tortuous, and reticulated capillaries on dermoscopy in a 13-year-old girl with unilateral nevoid telangiectasia. The author considers this feature to be a distinctive finding in unilateral nevoid telangiectasia and a feature that distinguishes the condition from angioma serpiginosum. [6]
A highly unusual case of a 10-year-old girl with unilateral nevoid telangiectasia on the left cheek and morphea involving the oral mucosa was reported by Hirt et al. Both the telangiectasia and lesions showed improvement with prednisone and methotrexate. [7]
Causes
The pathogenesis of unilateral nevoid telangiectasia remains unknown.
The occurrence of acquired unilateral nevoid telangiectasia in certain settings characterized by elevations of estrogen suggests hormonal causes. Such settings include puberty, pregnancy, and during oral contraceptive use. The other major setting in which this has been reported to occur is in states of hepatic dysfunction. Unilateral nevoid telangiectasia has been reported in patients with chronic liver disease due to alcoholism or hepatitis C, as well as liver metastases from carcinoid tumor [8] and colon cancer. [9]
Uhlin et al documented increased levels of estrogen and progesterone receptors in involved areas compared with normal skin [10] ; however, other reports have not been able to reproduce this finding.
Because unilateral nevoid telangiectasia has been noted in cases in which no underlying hormonal or hepatic pathology has been found, other mechanisms probably play a role in the pathogenesis.
Although reported cases often involve a dermatome or a group of dermatomes, distribution following the lines of Blaschko suggests that a postzygotic somatic mutation leads to a distinct cell population in the affected site (mosaicism).
Di Altobrando et al note that melorheostosis can be associated with unilateral nevoid telangiectasia, leading the authors to speculate on a common genetic origin of the conditions. [11]
What would you like to print?