Presentation
History
Patients with urticarial vasculitis present with an urticarial eruption, often accompanied by a painful or burning sensation. Lesions are generalized wheals or erythematous plaques, occasionally with central clearing, lasting for more than 24 hours in a fixed location (in contrast to urticaria, which resolves in minutes to hours or migrates continually). Petechiae may be noted within the lesions, and they may resolve with ecchymoses or postinflammatory hyperpigmentation. Patients may have photosensitivity, lymphadenopathy, arthralgia, angioedema (40%), fever, abdominal pain, dyspnea, and pleural and pericardial effusions. [4] Most cases of urticarial vasculitis are idiopathic.
The primary causes of urticarial vasculitis are as follows:
Drug induced, such as ACE inhibitors, penicillin, sulfonamides, fluoxetine, cimetidine, diltiazem, thiazides, potassium iodide, non-steroid inflammatory drugs, and glatiramer acetate [15]

Rheumatic disease, such as SLE and Sjögren syndrome: Urticarial vasculitis has also been reported with immunoglobulin A and immunoglobulin M monoclonal gammopathies, mixed cryoglobulins, and hematologic and solid malignancies. [16]
Urticarial vasculitis is divided into hypocomplementemic and normocomplementemic categories. [18]
Hypocomplementemia often is associated with a systemic condition, such as SLE (in which >50% of patients have hypocomplementemia). [3] In addition, as many as 71% of patients with hypocomplementemic urticarial vasculitis have a positive antinuclear antibody titer but do not fulfill the American Rheumatism Association criteria for SLE. [8] Some authors have suggested evaluation of hypocomplementemic urticarial vasculitis for immunoglobulin G antibodies to C1q. Individuals with these antibodies have a higher incidence of angioedema, ocular inflammation, glomerulonephritis, and obstructive pulmonary disease.
Normocomplementemic vasculitis can be associated with connective-tissue disease but at a much lower rate.
Physical Examination
Lesions of urticarial vasculitis initially appear as erythematous wheals (see image below). As the lesions progress, purpura may develop. Often, the urticarial vasculitis lesions resolve with postinflammatory pigmentation. Annular or targetoid lesions may be observed.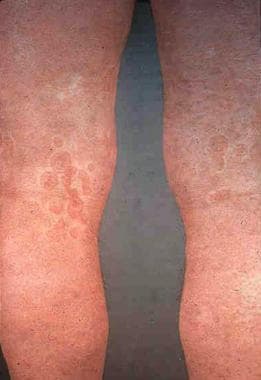 Raised erythematous wheals with postinflammatory hyperpigmentations suggest urticarial vasculitis.
What would you like to print?