Workup
Laboratory Studies
Check CH50, C3, C4, Clq, and antibodies to Clq in urticarial vasculitis patients. If these test results are positive, evaluate renal function and urinalysis to check for the effects of vasculitis on the kidneys. [21, 22, 23]
If the history suggests viral infections, obtain hepatitis B, hepatitis C, and heterophile antibody serologies.
Direct immunofluorescence may show deposition of vascular C3, fibrin, and immunoglobulins. A lupus band may be detected in patients with underlying lupus erythematosus.
If warranted, obtain antinuclear antibody and lupus serologies. Anti-SSA and anti-SSB may be seen in patients with Sjögren syndrome. Test results for antineutrophilic cytoplasmic antibodies are generally negative, and, if they are positive, the possibility of Wegener granulomatosis or microscopic polyangiitis should be considered.
Imaging Studies
Obtain chest x-ray films for urticarial vasculitis patients with hypocomplementemia and pulmonary symptoms.
Other Tests
If the patient is hypocomplementemic and has pulmonary symptoms, consider ordering pulmonary function tests.
Procedures
Perform skin biopsy to confirm the diagnosis of urticarial vasculitis. Recent lesions, less than 48 hours in onset, are the best for biopsy. Biopsy of a lesion of less than 24 hours' duration is best for direct immunofluorescence.
Histologic Findings
On biopsy, histologic findings are those of a leukocytoclastic vasculitis, defined as damage to the small vessels in the papillary and reticular dermis (see images below). [24]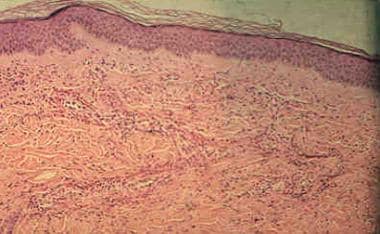 A low-power histologic image of urticarial vasculitis shows leukocytoclastic vasculitis with damage to the vessel wall and a neutrophilic infiltrate.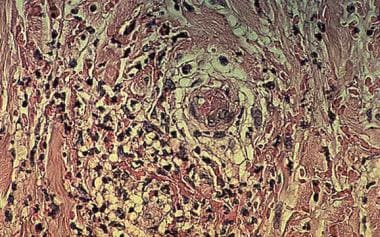 A high-power view of the histology of urticarial vasculitis shows extensive fibrin deposition in the vessel walls. Surrounding the vessels is a mixed infiltrate predominately composed of neutrophils with leukocytoclasis.
Early lesions show a perivascular neutrophilic infiltrate involving postcapillary venules. Leukocytoclasis is present, expansion of the vessel wall occurs, and the endothelium is intact. Eosinophils may be noted early. Fibrin deposition and extravasation of red blood cells ensue.
Later in the lesion's course, infiltrate may become a mixture of lymphocytes and neutrophils. Consider performing direct immunofluorescence on the skin biopsy, which may show deposition of complement and fibrin in the blood vessels and, occasionally, immunoglobulin M, immunoglobulin G, and immunoglobulin A along the basement membrane zone of the skin.
What would you like to print?